SCOTTISH-AMERICAN, TOM DORANS THIS IS MARTHA SPEAKING
A play about one of the more eccentric participants in recent American history was recently premiered in Pine Bluff, Arkansas to sell out crowds and audience raves. This most famous of hometown girls was Martha Mitchell wife of the Attorney General during Nixons administration, John Mitchell.
This is Martha Speaking, starred Lee Anne Moore as Martha Mitchell, and Michael Childers as John Mitchell. The 3-act play deals unflinchingly with Martha, her husband John, Richard Nixon, and the assorted characters and circumstances that swirled about them all before, during, and after the Watergate scandal. Under the auspices and sponsorship of Bob Abbott, the play was presented in four performances over 3 days this past June.
The play was written and directed by Los Angeles-based writer, Thomas Doran. Mr. Doran, born and raised in Port Chester, New York, is the son of a Scottish immigrant and an American mother. He has previously co-directed and produced three feature films; designed sets, props, and drawn storyboards for TV movies based on the well-known MacGyver television series; written a play about Vivien Leigh; and is currently recording a series of radio programs entitled Terror Radio, for play in the Los Angeles area and on the Internet. He is also the author of an historical novel, Lords of Darkness (which concerns the exploits of one of Scotlands most notorious legendary characters, the cannibal Sawney Bean).
I didn't know all that much personally about Martha Mitchell when I started, Doran said recently, Except for her obvious reputation and the fact that she was involved in the turmoil surrounding the Nixon White House. I was a young adult during all of that madness, and it affected all of us, indeed the whole nation, in ways we are still trying to fathom. From what I have learned so far, Martha certainly was an amazing woman and it should come as no surprise, something of a character as well. But no matter what anyone may think of her, no matter what agenda may color their opinions, it seems obvious to me that Martha was a woman of immense integrity, determined to tell her story to whoever would listen. Her position in Washington and in society in general certainly gave her that platform. And she didn't hesitate to take advantage of it. Though many clearly had wished she hadn't.
The play was not envisioned as a straight biography, but rather a reflection of Martha's life her attitude to life, politics, her family and friends focusing on her years in Washington, and after. I'm not out to purposefully offend anyone, says Doran. But I think I have told the truth in as dramatic a manner as possible. Well, lets say it is my version of the truth just as it was Marthas version of the truth as she saw it. And in deference to her, that seemed the most logical and honest way to present this dramatization. After all, look what it did to her in the end. She paid a heavy price indeed for speaking her mind, and needs to be applauded for that, even if some of us may disagree with her. How many of us are willing to do what she did? Not many from the looks of the state of the world.
Martha went out of a limb to keep news of the Watergate break-in and the various political machinations that followed, on the front pages of Americas newspapers in what was a failed attempt to save her husband from what she perceived was a set-up by Administration cronies to take the fall for them. She never dreamed or would accept that he might have been a willing participant from the beginning. When the truth came out, it doomed them both.
In the words of Richard Nixon, reflecting years later to David Frost on the turmoil that brought down his administration, If it weren't for Martha, there wouldn't have been a Watergate scandal.
Lee Anne Moore, originally from Arkansas but now resident in the Los Angeles area played Martha Mitchell with aplomb. She was quite remarkable, says the director. Everyone who saw the play, and there were many in the audience who knew the real Martha, said they were astonished how much she seemed like the real thing. Its a great compliment.
Michael Childers of Los Angeles played John Mitchell and managed to capture the essence of a person who can only be described as a patrician of the old order. Childers, originally from West Virginia and Chicago was able to add human depth to a character that many viewed as cold and distant. The private scenes between the Mitchells captured their very human qualities outsized as they might have seemed to the rest of the world. I tried to bring them down to earth, remarked Doran. After all, behind closed doors most of us are very much the same.
Richard Nixon and his anonymous cronies were written to keep them at the very dark core of the play. Quite a bit of their dialogue is from actual Oval Office transcripts, says Doran. And in that sense it makes it a bit chilling. Their innuendo played well in the context of what the play was about free speech and the ability to express it without fear or repercussions that might silence one even before they open their mouths. I think there are some lessons for us. Just take a look at what is going on today and compare it to a mere 30 years ago. The similarities of the political life in America is distressingly the same. Only theres no Martha around to give us a wake-up call. If you think about her popularity, and what she accomplished, it really is quite remarkable. In an era when TV news was really only a small part of our television lives maybe an hour or two at the very most each day she managed to get quite a lot of coverage. She stood out. Today the news is on 24 hours a day on innumerable channels and it all seems like white noise. So many people are talking, in exactly the same way that we cant hear a thing they are saying. Whether she was right or wrong, Martha caught our attention with her words alone. And thats something.
Doran envisions the play going beyond its premiere shows in Pine Bluff. The play is being shopped around all over the country to various theaters, touring groups and theater companies. I think its a play for the masses and with some good luck we hope to bring it to a town near you very soon.
Michael Childers and Lee Anne Moore rehearsing a scene.
Nixon and his minions conspire!
(Martin Cardy, Coby Hunt and Rick Wilson)
FOR FURTHER THIS IS MARTHA SPEAKING... INFO, check these websites:
Website 1
Website 2
---
ST ANDREWS RESTAURANT LENDS SCOTTISH TOUCH TO MANHATTANS THEATER DISTRICT
John Beatty
Saint Andrews, just a few miles NE of Edinburgh in Fife, is the birthplace of golf, and a dramatically beautiful place. It is also home to one of Scotlands finest universities. On 44th Street, between 6th and 7th Aves. in Manhattan is an equally dramatic bit of Scotland called by the same name.
Saint Andrews restaurant, at 120 W. 44th Street is a great bar, grill and restaurant featuring a goodly number of Scottish dishes including Cock a Leekie soup, pan seared Shetland Island salmon, Scottish smoked salmon, and yes, even haggis served with neeps and tatties, which they make themselves.
Martin Whelan and his brother Mark (the executive chef and graduate of the prestigious Culinary Institute of America) have had the restaurant for five years now. It is the only Scottish restaurant in New York City.
Originally, the brothers (who are of Irish and Scottish descent) felt that there were enough Irish pubs in New York, - indeed they themselves also have Maggies Place on the east side. So they opted for a place with a Scottish flavor and one that had a golf connection as well. Although there are many people of Scottish descent in New York City, the duo felt that the vast majority of them were not recent immigrants and so appealing solely to Scots might not be sufficient. On the other hand, golf is very popular and linking the two in the restaurant seemed like a good idea.
Much to their surprise, however, the have been finding more and more Scots and Scottish Americans are showing up (with or without an interest in golf!) and the restaurant is picking up more of a Scottish flavor than a golfing one than they had originally thought or planned. They have become involved with many of the Scottish and Scottish American groups in the city and have been involved with Tartan Day since its inception.
The restaurant has a grill area in the front which seats about 30 35 people, and a sixty foot bar which hold about the same number. The dining area in the rear hold about 75 people.
The bar is famous for having over 100 different beers and every brand of Scottish whisky that is sold in the U.S. It also stocks 200 single malts.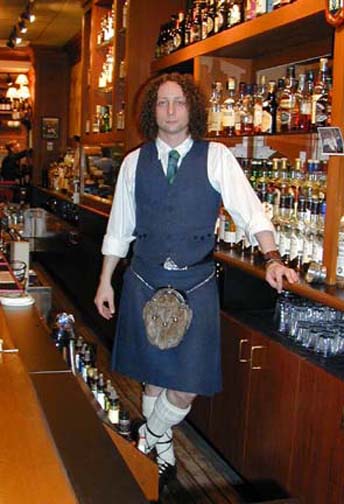 Probably one of the most unusual aspects of the place is that the bar tenders all wear kilts. This has provided a great deal more attention, I suspect, than if they wear attired in golfing clothes! The customers like seeing the guys in their kilts it certainly is a draw for the place.

Behind the bar, while I was there, was the properly kilted Mr. Bruce Donald Urquhart, who hails from the Black Isle near Inverness. He is one of the most knowledgeable on whisky, he has been interviewed (and tested) be several major papers including the Wall Street Journal, and walked away with top honors for his extensive knowledge of his subject (Where is the $64,000 question now?)

The restaurant is open 7 days a week, and has great food, a warm and cheery atmosphere and pleasant and friendly staff. On Saturday evenings the air is filled with Celtic music.

We suggest you run, not walk to St. Andrews restaurant and enjoy a great meal in a friendly atmosphere with a cheerful pleasant staff.

For a slide show of St. Andrews, click here .




St. Andrews Restaurant/Pub
120 W. 44th Street
New York, New York 10036
(212) 840-8413



For menu - visit their websites:
Website 1
Website 2