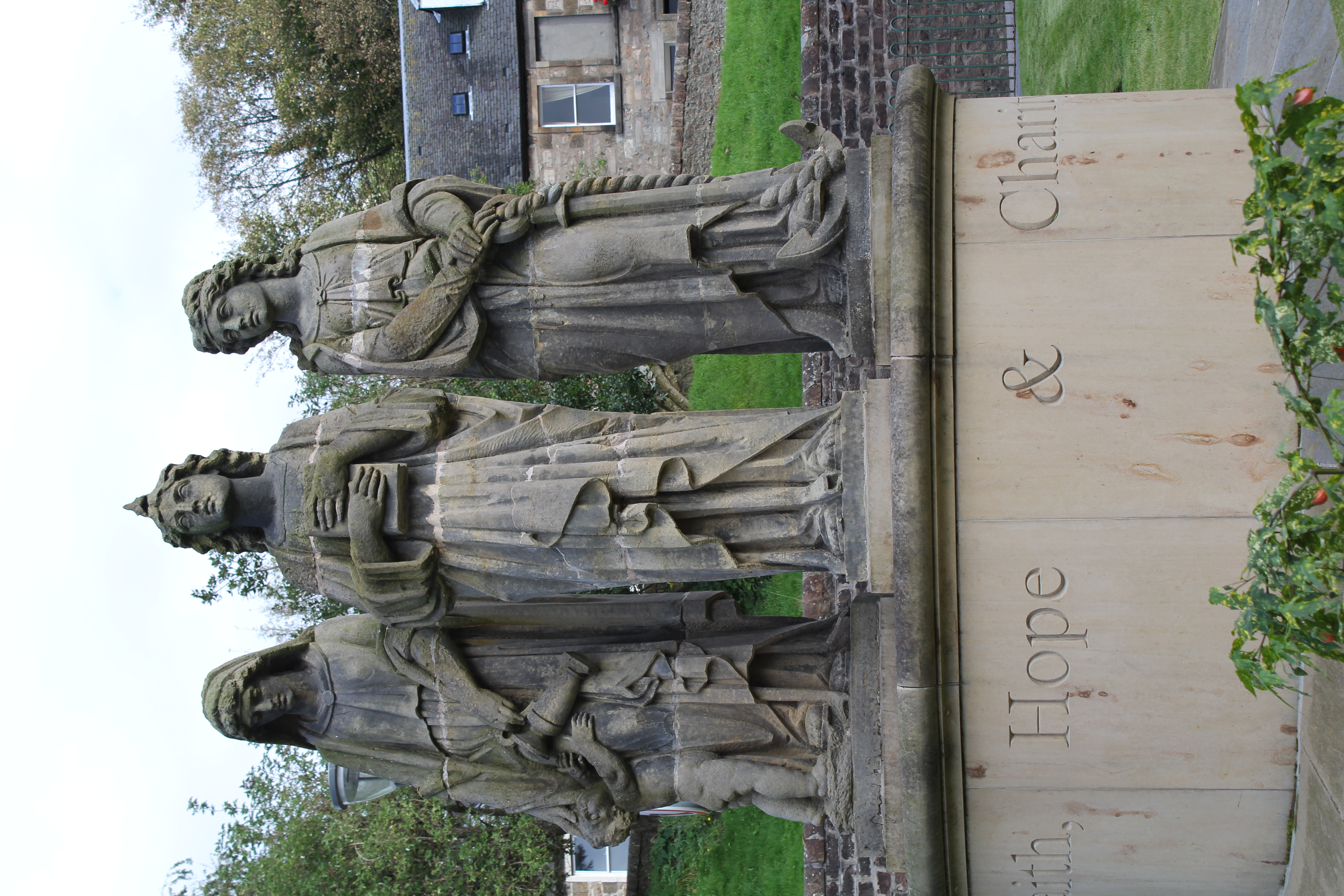 FAITH HOPE AND CHARITY
Somewhere in the neighborhood of 1869, a local sculptor, Andrew Davidson, was commissioned by the Young Men's Christian Organization to carve a statue that would stand on the top of the organization's building in High Street, in the center of Inverness.
Eventually, the building changed hands and was then the property of Grant's Tartan and Tweed Warehouse. In 1955, when the building was demolished, the statues were taken to Burgh Surveyor's yard where they remained for six years.
Norris Wood, an antique collector and stone mason, acquired them and had them installed on the grounds of his home in Holm, in Orkney. With his passing, the Highland Council was able to purchase them in 2007 and had them restored and placed on the banks of the Ness River in March of 2011. They can be seen there today immediately adjacent to the Ness Bank Church facing the river.
The larger than life statues stand 9 feet tall and weigh 4.2 tonnes each (about 4.6 US tons).
The statues are easily found by starting at Edinburgh Castle by the Flora MacDonald statue. Follow the road directly in front of the statue and as you leave the grounds, bear slightly right onto View Place. At the bottom of the hill, the Ness Bank Church will be to your right. Turn right and walk to the end of the church and the statues can be seen to the left (toward the river).
Alternately, you can walk from the train station or the Eastgate Shopping Centre along Bridge Street to the River. Make a left turn on Castle Road and walk straight ahead to the Church (about a 5 minute walk).
The walk continues along the river and is one end of the Great Glen Way.