WILLIAM BANKIER – The Scottish Hercules

10 December 1870 (Banff– 4 September 1949)



As a child, like many children, he loved the circus, but unlike many children, Bankier at age 12, ran away to join one as a laborer. His father (also named William Bankier) located his whereabouts and reclaimed him.

The strong man to be, did not stay at home long and within a few months took off again, this time as a crew member on a ship. His sailing days ended when he was ship wrecked off Montreal Canada, where he became a farm laborer.

His interest in performing never left him and he soon found himself with Porgie O'Brien's Road Show, a show that had a "strong man" act in it. Unfortunately, for the strong man in the show, he had a drinking problem, so fortunately for Bankier, one night the strong man could not go on and Bankier took his place in the performance. As the show's actual strong man missed more and more performances, Bankier began to hone his performing skills.

Within a year, Bankier was recruited for another performing show by Greco-Roman wrestling champion, William Muldoon. Muldoon, despite Bankier's Scottish background, never the less billed Bankier as "Carl Clyndon, the Canadian Strong Boy". Muldoon's show was one that displayed athletics and Bankier developed wrestling skills at this time. In addition to his strong man act, he added wrestling to his performance.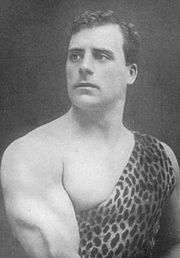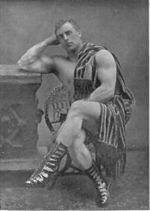 William Bankier
Not satisfied enough with that, he linked up with Jack Kilrain, a former heavyweight-boxing champion and acquired the skills involved with boxing.
Two years after the start of his performing career, at age 17, Bankier joins Buffalo Bill's Wild West Show, which, like circuses, was a touring company. Finally, he returned to circus life and became a member of the Ginnett Circus. While performing with this circus dynasty he performed under the name of Carl Clyndon.
He moved again to the well-regarded Bostock Circus and performed incredible "strong man feats" which included such things as wearing a harness and lifting an elephant weighing about 3200 pounds! He was able to balance on the backs of chairs while holding man overhead with one hand while juggling with the other!
Sometime in his 20's, Bankier returned to Britain where he was convinced by painter and illustrator Sir John Everett Millais, 1st Baronet, to change his name to "Apollo, the Scottish Hercules". It was under this name that he toured the world performing for large audiences.
In 1900, he published his work Ideal Physical Culture. Now at the time, Bankier was not the only strong man, nor was he perhaps the most famous. Eugen Sandow (born Friedrich Wilhelm Muller and lived from 2 April 1867 until his death on 14 October 1925), was just three years older than Bankier. Sandow had achieved fame in both Europe and in the United States and in 1893, Florenz Ziegfeld (of Ziegfeld Follies fame) displayed Sandow at the 1893 World's Fair: Columbian Exposition in Chicago. Sandow performed a number of strong man feats, but the audience seemed more interested in his muscles than the amount of weight he lifted, so Ziegfeld developed a kind of "posing routine" which were called "muscle display performances". Sandow performed these at many different exhibitions and he was filmed by Thomas Edison doing his posing routine.
Whether out of jealousy or genuine dislike for Sandow personally, or his build or his performance, Bankier attacked him in his publication in 1900. In his Ideal Physical Culture, Bankier challenged Sandow to appear in a contest of weightlifting, wrestling, running and jumping. When Sandow did not accept his challenge Bankier called him "a coward, a charlatan and a liar".
As Bankier got older, he left performing and turned his skills to a training academy and promoting wrestling matches. He became interested in Jiu-Jitsu as well, having met Yukio Tani, a Japanese instructor if the sport and a wrestler as well. The two founded the British Society of Jiu-Jitsu.
Bankier was also interested in charity works and, in 1915 and in 1919, he held the position of "King Rat" in the "Grand Order of Water Rats". This is a British charitable organization run by the entertainment industry.
Bankier died in September 1949 at the Red Rocks Nursing Home in Cheshire, England.
William Bankier is not the only Scot to have become a "strong man". One of the most fascinating is Angus MacAskill. Mac Askill was born on the Isle of Berneray in the Sound of Harris. While incredibly strong, he is perhaps better known as "the tallest non-pathological giant in recorded history". He stood 7'9"with a chest measurement of 80 inches!!! Like Bankier, he worked for some time in performing and was reportedly able to lift a 2,800 hundred pound anchor to chest height.
Angus MacAskill in Uniform beside a (6 feet 5 inch tall) Canadian friend
Although he worked as a fisherman, MacAskill toured with the P.T. Barnum Circus where he appeared next to the 3 foot 3 inch tall General Tom Thumb (Bridgeport Connecticut born Charles Sherwood Stratton).
Unlike Bankier, after his retirement from performance, MacAskill bought several properties including a gristmill and a general store.
---
Christmas Around the World – GERMANY (2020)
In Germany, Christmas is known as Weihnacht a word that derives from Weihen meaning something like "consecrated" or "hallowed" and the word Nacht meaning "night". People say "Fröhliche Weihnachten" or "Frohe Weinachten" as the equivalent of "Merry Christmas". People say "Guten Rutsch ins neue Jahr" for "Happy New Year" although the phrase literally means "(Have a) good slide into the new year"
The Tannenbaum, or "fir tree" is something many people associate with Christmas since it is the basis for the "Christmas Tree". Fir trees are not indigenous to Bethlehem or that part of the world so it is clearly and addition to the Christmas traditions.
The fir tree's wonderful green color lasts year round, unlike other trees whose leaves drop off and fall, leaving only bare branches. So the fir tree's almost eternal life matched well with the Christmas story and seems to have been incorporated into the essence of Christmas.
Germany then gives us the familiar Christmas carol "O Tannenbaum", which most people sing with German word as the opening.
This video version of "O Tannenbaum" is a cartoon version, which is meant for children as a "sing along" so the word actually appear on the screen so the viewer can sing along.
O Tannenbaum
O Tannenbaum, O Tannenbaum
wie grün sind deine Blätter.
Du grünst nicht nur zur Sommerzeit,
Nein auch im Winter, wenn es schneit.


O Tannenbaum, O Tannenbaum,
wie grün sind deine Blätter.


O Tannenbaum, o Tannenbaum
Du kannst mir sehr gefallen
Wie oft hat schon zur Winterzeit
Ein Baum von dir mich hoch gefreut
O Tannenbaum, o Tannenbaum
Du kannst mir sehr gefallen


O Tannenbaum, o Tannenbaum
Dein Kleid wird mich was lehren
Die Hoffnung und Beständigkeit
Gibt Mut und Kraft zur jeder Zeit
O Tannenbaum, o Tannenbaum
Dein Kleid wird mich was lehren
O Christmas tree*, O Christmas tree
How green are your leaves!
You are green not just in summer time
No, but also in winter when it snows


O fir tree, O fir tree
How green are your leaves


O Christmas tree*, O Christmas tree
You can really please me (I really like you)
How often already in winter time
A tree of yours made me so happy
O fir tree, O fir tree
You can really please me (I really like you)


O Christmas tree*, O Christmas tree
Your "dress" will teach me something -
(The) hope and stability, at all times
Give courage and strength
O fir tree, O fir tree
Your "dress" will teach me something –
*Tannenbaum is a "fir tree" and hence one that serves as a Christmas tree. So I have translated in the first line of each verse as "Christmas tree" and in the fifth as "fir tree". The importance, of course, is that a tree which remains green at all times of the year carries with it a feeling of eternal life, strength and stability making it an obvious symbol for Christmas. Since there are no fir trees in the areas around Bethlehem, one has to conclude the Christmas tree is a somewhat later arrival into the Christmas festivities.