CALL ME MELVILL(E)!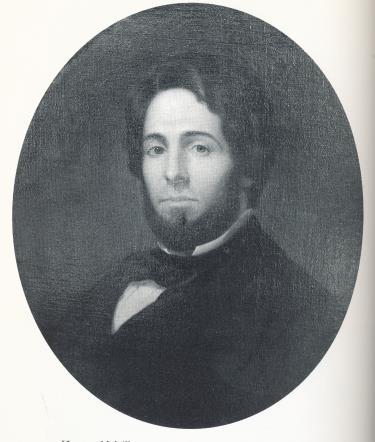 One of the preeminent authors of the United States is Herman Melville, the author of many works including Moby Dick, which is his most famous work.
He was born Herman Melvill on August 1, 1819 in New York City, to Allan Mulvill and Maria Gansevoort. He was the third of eight children. His father was of Scottish descent, his mother, Dutch. Herman was the descendant of a clergyman, Thomas Melvill of the Scottish Kirk who was minister of Scoonie Parish in Leven, Fife for nearly fifty years. One of his sons, Allan (1728-1761), moved to Boston, Massachusetts in 1748 where he became a merchant.
Allan married and had a son Thomas. Allan died quite young and left a substantial amount of money to his son, Thomas. Thomas attended Princeton College, from which he graduated in 1769. Three years later he visited his relatives in Scotland and was well received and presented with the freedom of the city in St. Andrews and Renfrew.
The following year he returned to Boston and took part in the famous Boston Tea Party on Dec. 16 1773. He became a major in the army and fought in the American Revolution. Interestingly enough, Herman's maternal grandfather, General Peter Gansevoort also fought in the Revolution.
The major's son, Allan (note the alternating first names, not atypical in Scotland, and the Scottish spelling of Allan) became a merchant. He was sent by his father to France where he stayed for 2 years and learned French quite well.
Allan's wife, Maria Gansevoort was a member of the Dutch Reformed Church which was Calvinist in its approach. She was well versed in the Bible and could read it in English and Dutch, a language she also spoke at home. Her strict religious upbringing would have a strong effect on Herman. She has been spoken of as warm and loving and devoted to her husband.
Allan business went quite well and the family lived at 6 Pearl Street in lower Manhattan which was where the "center" of New York City was at the time. The building no longer exists, but on the site, is a large skyscraper whose address is now 17 State Street. (SEE THIS ISSUE'S "OFF THE BEATEN PATH")There had been a statue of Melville there, but appears to have been removed when the garden was added a few years ago.
The Melvills' fortunes allowed for a rather wealthy life style and Allan moved the family into more and more expensive homes. At that point in 1826 the Melvills moved to a house at 33 Bleeker Street in NYC – a bit further "uptown" in what might have almost been thought of as suburbs! This house also, is gone and in its place, is a red brick building with the Zürcher Art Galerie on the first floor and apartments above.
It was while Herman lived here that he and his older brother Gansevoort (1815-1846) started to attend the New York Male High School which must have included a grammar school.
Two years later, in 1828 the family moved to 675 Broadway – also demolished. It is now a large building running from Mercer Street to Broadway along West 3rd Street.
Ultimately, Allan developed financial troubles which brought the wealthy life style to an end. He tried to recover by going into the fur business and moved to Albany in 1830, but misfortunes continued to occur. He died on Jan 28th 1832, when Herman was only 12 years old. It is some point after his father's death that Herman's mother decides to add an "e" to the family name, changing it from Melvill to Melville.
Herman remained in the Albany area, and trained as an engineer but was unable to find work, His first known writings appear in a newspaper in May 4th of 1839. On June 1 st he signed on a merchant ship, the St. Lawrence as a new hand and sails to Liverpool, arriving back in NY on Oct. 1. He writes Redburn, his First Voyage, published in 1849, in which he uses his experiences on his first trip in the writing. One suspects that something of his Scottish background emerged when he names the story's ship, The Highlander.
After a stint of teaching, he gives it up and winds up in New Bedford, perhaps the most famous whaling port in America and signs on a whaler, the Acushnet, for 1/175th off the profits from the trip. He attended a service at the Seaman's Bethel, which will appear in his book, Moby Dick.
Herman married Elizabeth Knapp Shaw August 4th 1847 and after a honeymoon in Canada, Herman and his wife moved to 4th Ave. in New York City. Their first son Malcolm (a good Scottish name) was born on Feb 16th 1849
The rather religious atmosphere in which Herman grew up seems to impacted him dramatically in his writings. Many of them, especially perhaps Moby Dick are rife with religious images and implications. Lawrence Thompson's Melville's Quarrel with God raises many issues. Melville himself is reported as saying about Moby Dick "I have written a very wicked book and feel spotless as a lamb". Many of his notes for the books appear to have been destroyed by his family.
In 1850, Herman bought a 150 acre farm in Pittsfield Massachusetts which he called "arrowhead" because of the large number of arrow heads found there. While there he developed a friendship with Nathaniel Hawthorn whom he admired greatly.
On Oct. 22 1851, his second son Stanwix, (probably named for the Fort which had been successfully defended in the American Revolution by Herman's maternal Grandfather General Peter Gansevoort) was born
In 1863 he bought his brother's house in New York at 104 East 26th Street. Three years later in 1866 he became a customs inspector for New York City – a job he held for 19 years. Tragedy struck the next year when Malcom died of a gunshot wound which may have been accidental or possibly suicidal.
His second son, Stanwix, died Feb. 23 1886, just 54 days after Herman retired.
Melville did not do well financially from his writings – prose or poetry – during his lifetime. His reputation grew, as is often the case, after his death on September 28, 1891. He and his wife are buried in Woodlawn Cemetery in the Bronx.
His works include Typee: A Peep at Polynesian Life (1846), Omoo: A Narrative of Adventures in the South Seas (1847), Mardi and a Voyage Thither (1849), Redburn, His First Voyage (1849), White-Jacket; or, The World in a Man-of-War (1850), Moby Dick; or, The Whale (1851), Pierre; or The Ambiguities (1852), Israel Potter: His Fifty Years of Exile (1855), The Confidence-Man: His Masquerade (1857), Billy Budd (written between 1888 and 1891; published posthumously 1924). His work, The Piazza Tales (1856), includes "The Piazza," "Bartleby the Scrivener," "Benito Cereno," "The Encantadas, or, Enchanted Isles," and "The Lightning-Rod Man". The Apple-Tree Table and Other Sketches (1922), contains 10 pieces first published in periodicals between 1850-56. Two journals Journal up the Straits, October 1, 1856-May 5, 1857 (1935) and Journal of Melville's Voyage in the Clipper Ship, Meteor (1929) can be found. The Meteor was a ship captained by his brother Thomas.
In verse, he wrote Battle-Pieces and Aspects of the War (1866); Clarel: A Poem and Pilgrimage in the Holy Land (1876) ; John Marr, and Other Sailors; With Some Sea-Pieces (1888) and Timoleon (1891)
His final novel, Billy Budd, Sailor, was not published until 1924, some 33 years after his death. The story has been in made into a play in 1951 and an opera by Benjamin Britten in the same year.
Moby Dick has had several incarnations as films with versions occurring in 1930 with John Barrymore;1954 with Victor Jory;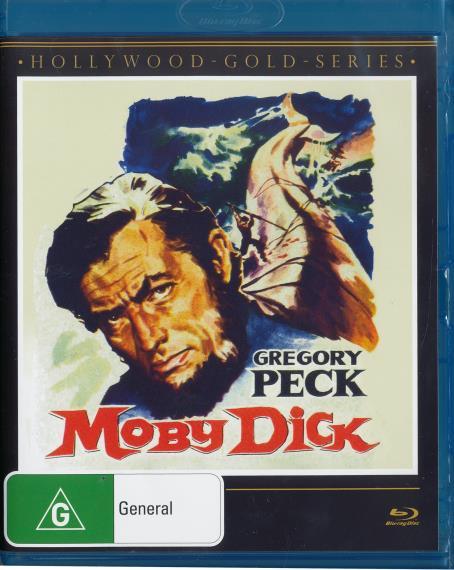 1956 with Gregory Peck; 1978 with Jack Aronson; a 1998 miniseries with Patrick Stewart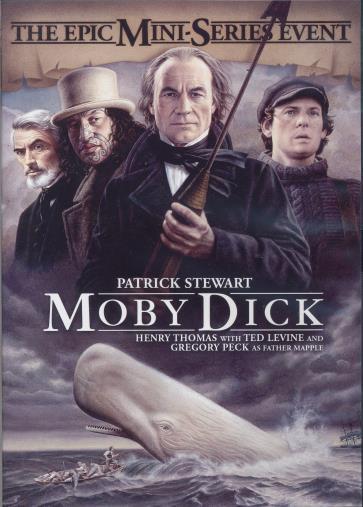 2010: Moby Dick with Barry Bostwick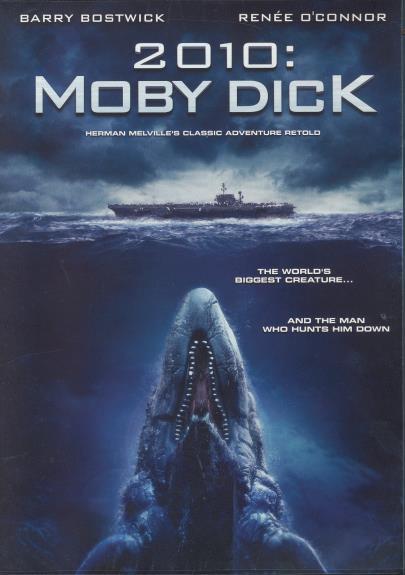 A 2011 miniseries with Ethan Hawk and William Hurt;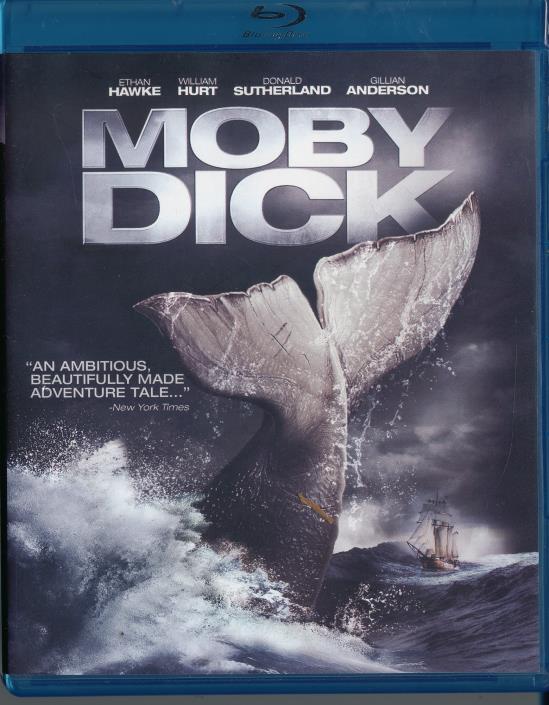 A 2013 version with Jay Hunter Morris . In case you are worried this isn't enough "Moby Dick", Internet Movie Data Base (IMDB.com) list yet another version "in development".
A giant fossil sperm whale, with a skull of about 3 meters (9.8 feet) was found in Peru. It dates back some 12 to 13 million years ago. Based on the length of the jaw, the entire animal might have been between 13.5 and 17.5 meters (44.3 and 57.4 feet). Not unusual for a sperm whale. However, the teeth are about 10 centimeters (4 inches) longer than the largest sperm whale teeth today. This newly found whale has been given the scientific name of Leviathan melvillei by Olivier Lambert of the National Museum of Natural History in Paris. (More recently it was determined that the genus name "Leviathan" had already been used, so the whale was given the genus name Levyatan – Hebrew for Leviathan – so the corrected name is now Levyatan melvillei.
Melville, NY on Long Island may have been named for Herman Melville, although there is some debate that it derives from the word for honey in Latin (mel). There were many honey bees in the area.
---
CHRISTMAS AROUND THE WORLD
The Scotia News was originally published as a free newsletter by John and Thea MacRae. After the two of them passed away, the newsletter stopped until the advent of the Internet when it became possible to put issues up on a Web site.
In each issue that came out Thea would have an article about Christmas customs in other parts of the world. This is one aspect of the old Scotia News we had not followed. We hope to revive the idea and do a series on Christmas songs from different parts of the world. Each song has a YouTube link to just one recording of the song. You can check he Internet for other versions.
Some of the songs have several verses and many, being folk lyrics, have no "authentic" version. There are many verses for many of the songs and so the lyrics we supply are not necessarily complete.
Christmas is in many ways an interesting holiday and there have been many changes in the customs and feelings about it over time and throughout the world.
One thing that has intrigued many people is that the Bible says that the birth took place while shepherds watch their flocks by night. (And there were in the same country shepherds abiding in the field, keeping watch over their flock by night. Luke 2:8). It appears the only time shepherds watch their flocks at night is when lambs are being born, to protect against predators. This happens in the spring, not the winter.
Christians however, were not exactly in favor in the days when the Bible was being written down and celebrating something like Christmas would certainly have drawn attention to them.
There was a Roman holiday which occurred called Saturnalia which occurred around Dec. 25th. This holiday celebrated the return of the sun which since June 21st had been moving further and further south. The Romans held rituals to cause the sun to come back and roughly on Dec. 21 it stops its southerly movement and after about three or four days, it shows signs of moving north again. So about Dec 25th the sun seems clearly to have decided to stay around. This led to much celebration and so it was easy for the Christians to celebrate too – even though it was something different. So the date for the birth of Christ moved to Dec. 25th where it remains. But the text in Luke and others shows otherwise giving a clue to when the actual birth may have happened.
At any rate, many Christmas songs celebrate the birth as can be seen in this wonderful and remarkably beautiful carol from France. There are many versions on the Internet which you can find easily by search YouTube using the title of the piece.
If you are an aficionado of Val Lewton films, you may recognize this as the song that Irena sings in the garden in his wonderful film, with the bizarre name of Cat People!
FRANCE
Il est né le Divin Enfant


This is a remarkably beautiful carol. There are many versions on the internet which you can find easily by search You Tube using the title of the piece. 
If you are an aficionado of Val Lewton films, you may recognize this as the song that Irena sings in the garden in his wonderful film, with the bizarre name of Cat People!



Chantons tous son avènement (Let us all sing his advent)






Il est né le divin Enfant
Jouez hautbois, résonnez musettes
Il est né le divin Enfant
Chantons tous son avènement
 
Depuis plus de quatre mille ans
Nous le promettaient les prophètes
Depuis plus de quatre mille ans
Nous attendions cet heureux temps

Ah, qu'll est beau, qu'il est charmant
Que ses graces sont parfaites
Ah, qu'll est beau, qu'll est charmant

Qu'il est doux le divin Enfant
Il est ne, le divin Enfant
Une etable est son logement
Un peu de paille, sa couchette
Une etable est son logement
Pour un Dieu, quel abaissement
Il est ne, le divin Enfant

O Jesus, O Roi tout puissant
Tout petit enfant que vous etes
O Jesus, O Roi tout puissant
Regnez sur nous entierement
Il est ne, le divin Enfant




He is born, the divine child,
Play oboes; set bagpipes sounding
He is born, the divine child.
Let all sing his nativity.

'Tis four thousand years and more,
Prophets have foretold His coming,
'Tis four thousand years and more,
We have waited for this happy hour.
 
Ah, how beautiful he is, how charming
How perfect his graces are
Ah, how beautiful he is, how charming
 
How sweet the divine child is
He is born,  the divine child
A stable is his lodging
A little straw, his resting place
A stable is his lodging
For a God, what an abasement
He is born the divine child
 
O Jesus, O Almighty King
Little child that you are
O Jesus, O Almighty King
Reign over us completely
He is born, the divine child



A big thank you to Denise DeTilleux who helped with the translations.