John o' Groats and the Run to (or from) Land's End
Most people who travel to Scotland restrict themselves to Edinburgh and Glasgow. A small number of visitors wends their way north to Inverness. North of there, there be dragons – and few people seem willing to head that way and go to Ross, Sutherland and Caithness.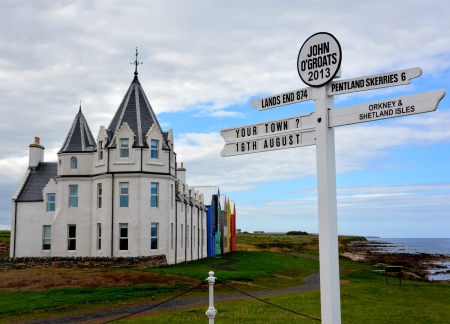 John o' Groats
John o' Groats, in Caiithness is considered the northernmost habitation on Mainland Britain and as a result gets its share of visitors. One can go about 14 miles further north and west to Dunnet Head which has a wonderful lighthouse, but is generally not thought of as a "habitation".
Like the red telephone box seen in the film Local Hero, John o' Groats has a famous tourist site – a sign post which proclaims the distance to New York is 3147 miles to NY of the sign post is to be believed. However, the interesting distance is 847 miles. This is the distance between John o' Groats in Scotland and Land's End in Cornwall, making the distance between them the longest distance between any two places on the British mainland – well actually, it depends on the route you take. Traveling from the southernmost part of Mainland Britain, Land's End in Cornwall to John o' Groats is about 603 miles depending on how one makes the trip. The shortest distance by roads is 847 miles (1,363 kilometers).
A number of athletes have made the walk for charitable reasons, calling attention to, or raising funds for certain charities. The cricketer Ian Botham made the walk in 1985 (about 900 miles). His efforts in general raised over 12 million pounds for Leukemia research. Other athletes, both amateur and professional have done the walk as well. Amateur athlete Jane Tomlinson, suffering from cancer, did the walk in 2003. She died 4 years later at age 43.
Stephen Gough gained some notoriety by making the walk naked over a period of seven months to promote the advantages of going semi – naked (he wore socks, boots, a hat and had a rucksack). The seven month trek includes not only the time walking, but jail time and court appearances brought by members of the public being upset. The delays caused him to have to travel in weather than was much colder than planned. The walk generally takes somewhere in the neighborhood of a month. An article about his travails can be found here.
Walking is not the only way a person can go on their own power between the two points. It is a challenging bicycle ride as well. Threshold Sports runs the Deloitte Ride Across Britain with over 800 riders making the trip over a 9 day period. The record time for a standard bicycle is 44 hours 4 minutes and 20 seconds which was accomplished by Gethin Butler in 2001 Using a Windcheetah recumbent tricycle, Andy Wilkinson managed the trip in 41 hours 4 minutes and 22 seconds.
Others have made the trip by horse and by wheelchair. Skateboard (reportedly 21 days). Sean Conway is the only person known to have (amazingly) swum the distance! I haven't heard of any gymnast or acrobat who has done it walking on their hands, but maybe we have planted a wee small seed of an idea there!
If you are really in a hurry though – go by plane. In 1988 a McDonell - Douglas F4K phantom made the trip in 46 minutes and 44 seconds.
Actually, you can have a wonderful walk and remain in Scotland the whole time. Scotland is a great place to walk. The Great Glen Way, for example is a 79 mile walk from Fort William to Inverness, but there are many others. You can check out several fine walks here
John o' Groats New York Post