Tartans Made for the Movies
by Tom Doran
Most movies that feature tartan material seldom, if ever, bother with creating unique patterns for their films – they use what is available, and sometimes, just what looks good to them. Most, if not all Hollywood film-makers, even from the earliest days, would not have known the convoluted (and somewhat debatable) history of the material, and excepted it at face value – again, if at all, based on what looked good on film – what "read" in Black and White (for the most part). Tone and shading was more important than actual representative colors in all costumes back them.
If one were to look at rare color photos of costumes on the set as they were made (not the colorized lobby cards or painted posters), one would see rather strange combinations. The color shots of costumes for the 1937 version of The Prisoner of Zenda, shows an almost kaleidoscope collection of colors! The incredibly adept art directors and directors of photography, by then most certainly knew what would look good on black and white film. A "white" gown was in actuality a rather dreadful shade of pink – a military man's tunic, a disturbingly "wrong" shade of green, and so on. But on film, in black and white, everything looked perfect.
There were several silent films that took place in Scotland (Annie Laurie, Rob Roy, etc.), and others where a Scottish (almost always Highland) character appeared (The Black Pirate for instance) and I'm quite sure they made up the costumes (including kilts) for looks alone – some costumers never quite figured out what a Great Belted Plaid was anyway.
For military regiments that appeared in American films, they mostly used the Black Watch tartan (the early sound film The Black Watch being the obvious one of course); and it is my assumption that all the military kilts (including sporrans) were bought in Scotland (made to order) or through, perhaps, military surplus entrepreneurs. It would have been difficult for American tailors working in the film industry to have been able to make a good kilt without extensive apprenticeship. It's possible, but, if you look close in those films, the kilts do seem to move right, and therefore probably properly made.
The Black Watch kilt was (is?) the most famous of the regimental tartans and has featured in many films – Gunga Din, Bonnie Scotland, Wee Willie Winkie, etc. and were probably the property of the Western Costume Company in Hollywood. They were and are a huge concern – and while all studios had their own costume departments of varying sizes, they still often went to Western Costume to rent clothing. Since the Black Watch regimental uniforms appeared in many films from various studios, it stands to reason that they were from one source and not individual studio larders.
Other films used a mish-mash of tartans (Mary of Scotland, various Lassie films, etc.); the costumes and tartans often out of place and anachronistic (even in black and white, there are clearly identifiable setts visible to some – I have seen the wholly modern Buchanan tartan being worn in B&W period films). The costumers and designers more often than not used the illustrations from McIan's book, The Clans of the Scottish Highlands as a guide – not a very reliable source. Even a later film like Brigadoon copied almost exactly the costumes, and even poses (including one with a Shetland pony), directly from that book.
The British film Bonnie Prince Charlie starring David Niven got the costumes a bit better. It's unlikely the tartans were anything other than material off the shelf.
My personal first notice of what could be considered a "new" tartan was in the 90's, when Braveheart and Rob Roy hit the screens. For these films, brand new tartans, supposedly more accurate in tone and coloring to suit the times of the films, were purposefully created. Many in Braveheart wore what is now called the Wallace Clan tartan – muted and simple, in keeping with what dyes might have been available and what locals weavers might have been able to make.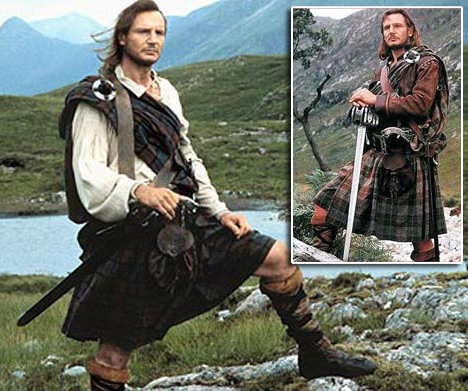 Rob Roy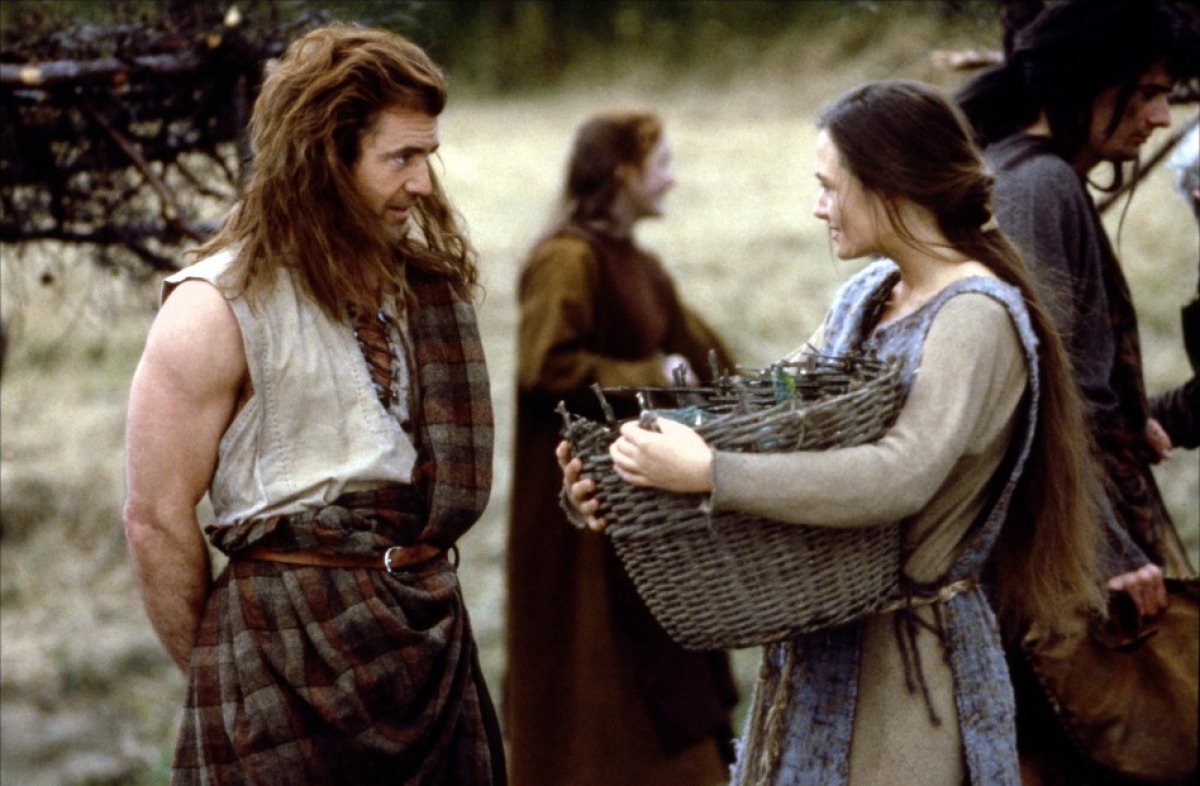 Braveheart
The costumes, however, in Braveheart, are mostly ridiculous – they seem to be just oddball variations of the Great Belted Plaid – absurdly designed and used, with little to no historical accuracy. And most everyone was wearing the same tartan – there was no industrial weaving going on then – it was almost all home-spun, and while colors and patterns may have been similar in certain locales, there's just no way the exactness of the tartans would have been so wide-spread – that remained something attained centuries later.
That said, the tartan itself seems to be suitably "period" - though not its use in the costumes. It has, since the movie's premiere, become a very popular tartan and is easily found for those who want to dress up ala Mel Gibson.
Rob Roy, which appeared about the same time as Braveheart, is in my opinion, not only a much better film, but way more accurate historically. They had their custom tartans again made in muted tones and simple patterns, and none of them seemed to match exactly (though similar) what others were wearing, which was much more likely to have been the case in real life. Most are primarily brown, with some blues – all very affective, and noticeably without great swatches of red (which would not have been used so much at that time), a color that most people see in more famous patterns of today. Some of the costumes seem to be at odds with reality however in some minor ways (but a huge jump over the nonsense of Braveheart), but nothing too shocking. Rob had more than one set of clothing as well – his brownish kilt and his purple-blue one. The only tartan seen with red belonged to the Chief of the Campbell Clan.
The reason for these new tartans is really one of an actual attempt to be somewhat historically accurate – but these films had budgets large enough to have new tartans designed and created. Even well-meaning films such as the Scottish made Chasing the Deer (about the battles and events surrounding Sheriffmuir and Culloden primarily) had to use what they could afford, the budget being so small. Many of the members of the Wallace Clan Trust in Glasgow (the primary movers and shakers behind promoting and shaping the creation of Braveheart) could not afford to have new tartans created for this very low budget film, and virtually all the tartans are off the shelf – some glaringly out of place, but some muted by wear and tear and dirt, etc. and thus very effective, if not noticeable. They used their own weapons and other accoutrements as well. They knew the difference and what was more historically accurate regarding tartan – they just couldn't do a lot about it given the financial circumstances of the producers. Still, it was an impressive display.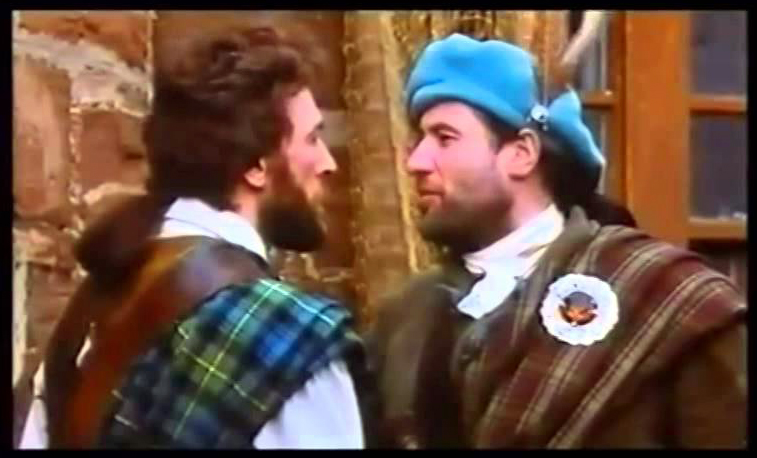 Chasing The Deer
Tunes of Glory: This film, starring John Mills and Alec Guiness, is a high-powered drama about the conflict between two officers in a Highland regiment, that ends in tragedy. The Ministry of Defense, knowing this project, strongly "suggested" that because of the volatile nature of the script, that no existing particular Highland regiment be depicted – less an audience take the rather daring and dangerous aspects of the goings-on within, to be something as really having happened.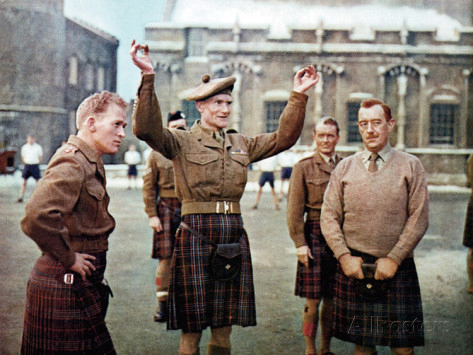 Tunes Of Glory
with Gordon Jackson, John Mills, Alec Guinness, 1960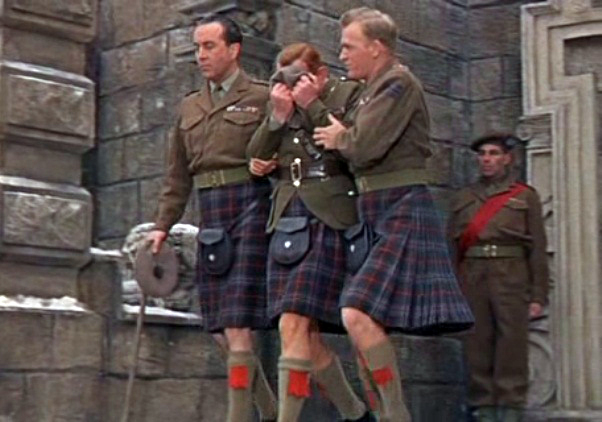 Dennis Price, Alec Guinnes, Gordon Jackson in
Tunes Of Glory
So, a new tartan was designed (perhaps the very first for a film). Some people seem to speculate it was actually a Scott tartan of some sort – but mixed about a bit. There are various opinions – and while some tartans are very similar at first glance, close-up examination shows the differences more clearly.
Enough costuming was made that, like Western Costume in Hollywood, the kilts were rented out for a Carry On film – Carry on Up the Kyber. The low budget, low-comedy British series could never have afforded to do anything more than rent what was available (and even then), so the Tunes of Glory tartan made its way onto the nincompoop regiment depicted in the comedy.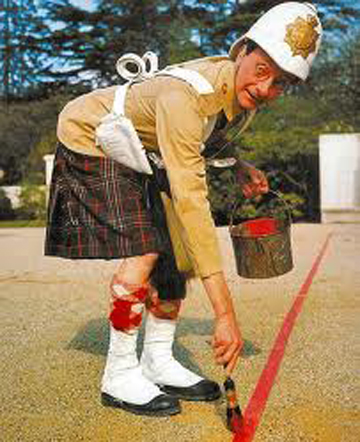 Carry on Up the Kyber
The movie Highlander – a mystical/sci-fi based film, about a 16th century Highlander who discovers he cannot die – also had a custom made tartan of mainly blue design – but if you look close, it also has many loose threads, in what seems to be a deliberate attempt to make it look "home-made" - instead, it just looks like it was done by someone who had no real idea how to weave properly.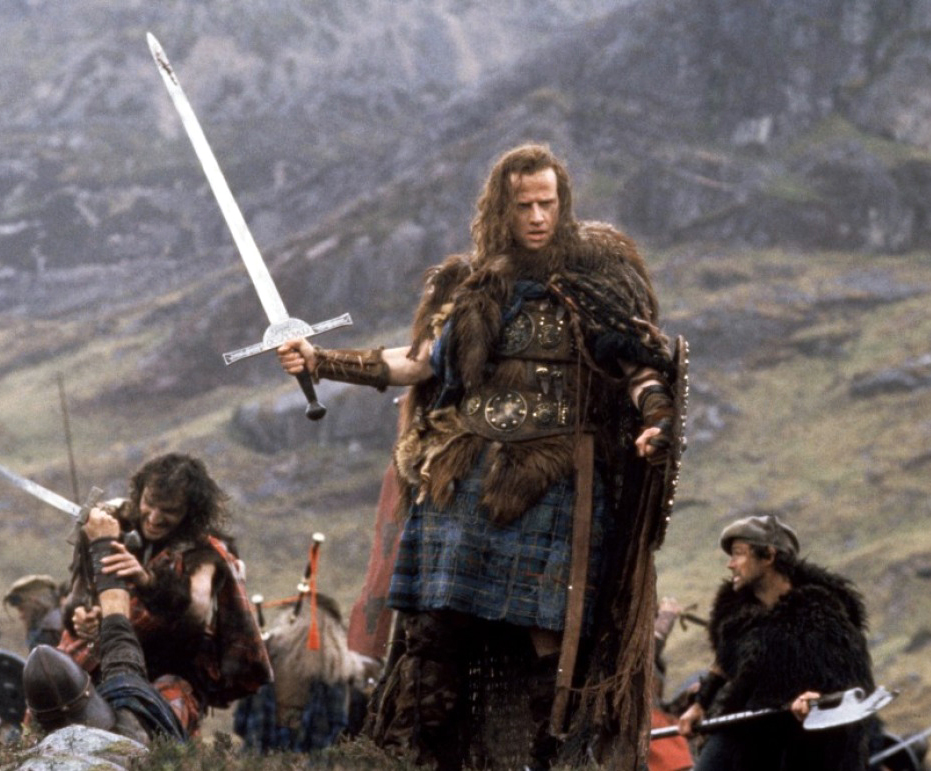 Highlander
More recently, the successful cable TV series Outlander – a supernatural, time-traveling tale set for the most part in 1743 Scotland, also had their own tartans made up (designed by costumer Terry Moore) – and while most of the clan are MacKenzies, the tartans of course have no resemblance to what is now accepted as the MacKenzie sett. Or any other (deliberately so). The MacKenzies in the series do however wear the same pattern as each other – and while not common as one might romantically think, it was beginning to be done within some clans (often by dictate of the Chief in one or two historically documented instances) at that time – just before the downfall of tartan, so we can reasonably accept that as possible. Watching the series itself it is not so obvious they are wearing the same material, but a still frame shows the reality.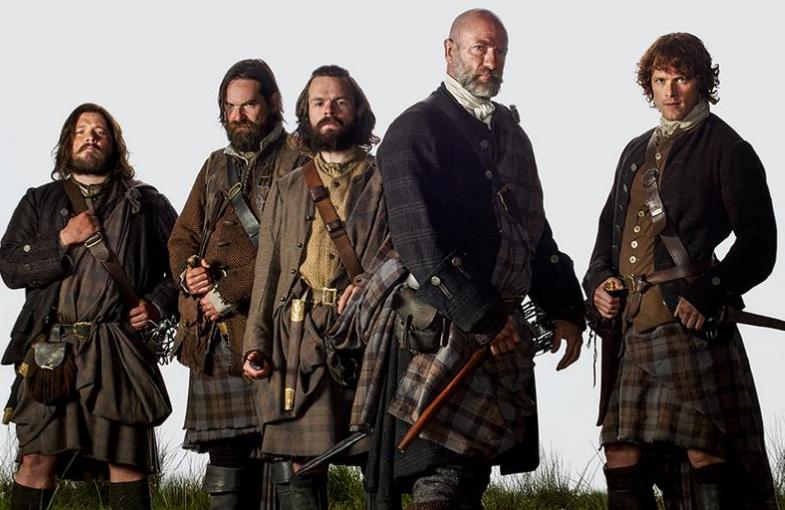 Outlander
: Clansmen
In the future, depending on the budgets allowed, I'm sure many more newly created film tartans will hit the screens – big and small. Though most viewers wouldn't know, and probably not care as to the accuracy of tartan for the time periods portrayed, it's this attention to detail and attempts at historical truth which is something to applaud.
---
Tartan App
by cecilia
In keeping with the previous article, what if you wish to design a tartan for your own low budget film? Or you want to start your own clan? Or what if you just want to have your family tartan as a wallpaper on your phone? Well, I discovered a simple app one can use on android phones. Check out Tartan Weaver. It's very very easy to use.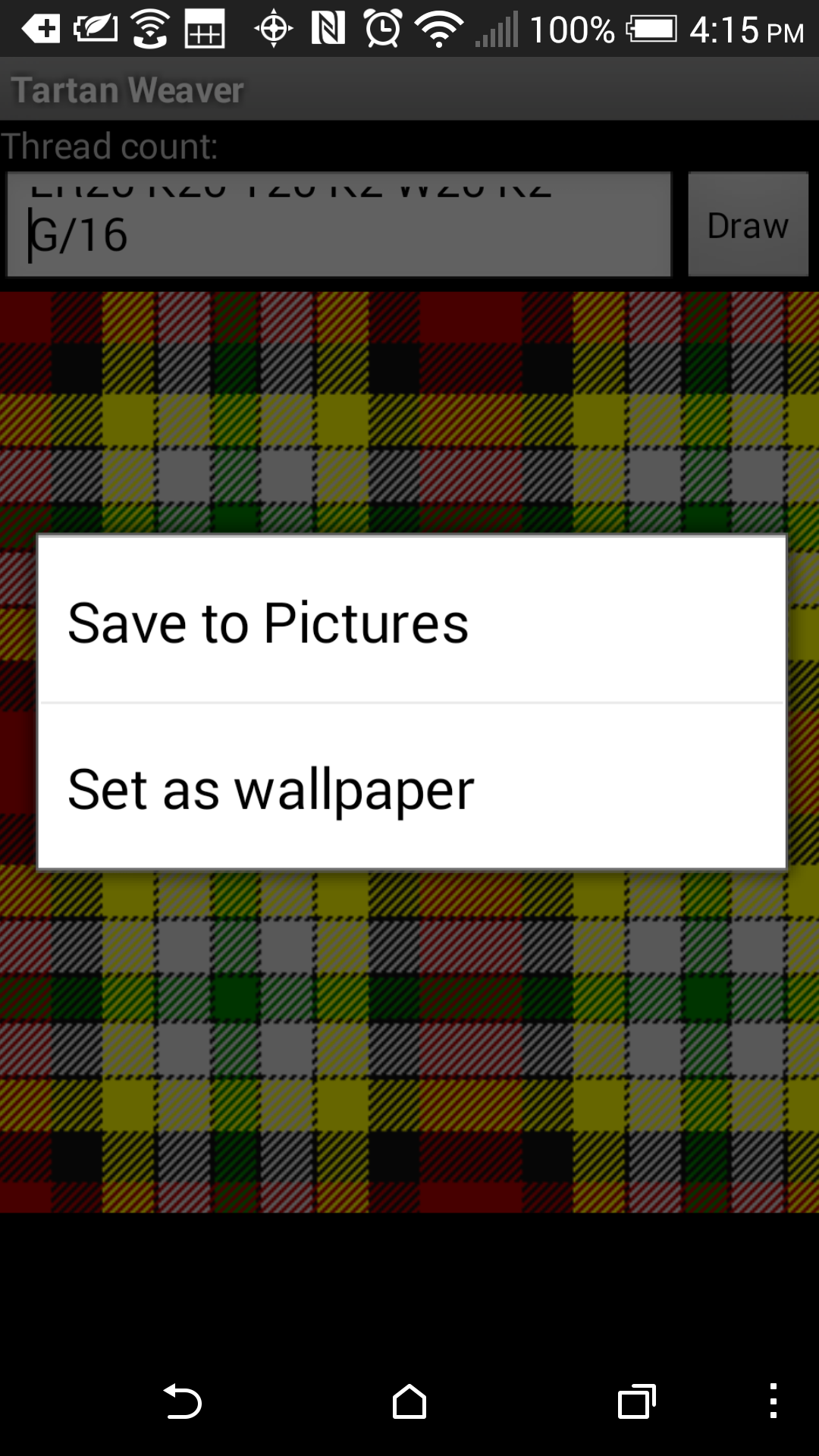 However, you should first understand that the App uses sett color codes to count the weave threads. So, type LR for light red, R for red, DR: dark red, LG: light green, G: green, DG: dark green, LB: light blue, B: blue, DB: dark blue, Y: yellow, K black, W: white, N: grey, T: brown. Obviously, the larger the number means that color will cover a larger area. Easy, right? On some phones (I was experimenting on an HTC in one case) you must use capital letters or it doesn't seem to properly interpret the codes.
Understanding Thread Counts is a good place to start to uncover these basic concepts. Really, just plug in any numbers and colors and hit the "DRAW" button until you see a pattern you love. Once satisfied, TAP the tartan image and either save as wallpaper or save the image in the "Pictures" folder on your device.
You may need a file manager to access the Pictures folder, but it's not hidden and relatively easy to find. I also noticed that when the App saves the tartan image file it uses as part of it's name the sett pattern. The name of the image just to the left is "Tartan-B4DR60G28W28DB4LB28T28.png". That makes it easy to know what the pattern is in case you want to change it slightly.
Someone posted that they were attempting to recreate the Fraser of Lovat tartan using these numbers: B32 R4 B4 R4 G28 R26 W4. I added the "pivot point" at the White (W/4) and this is my result: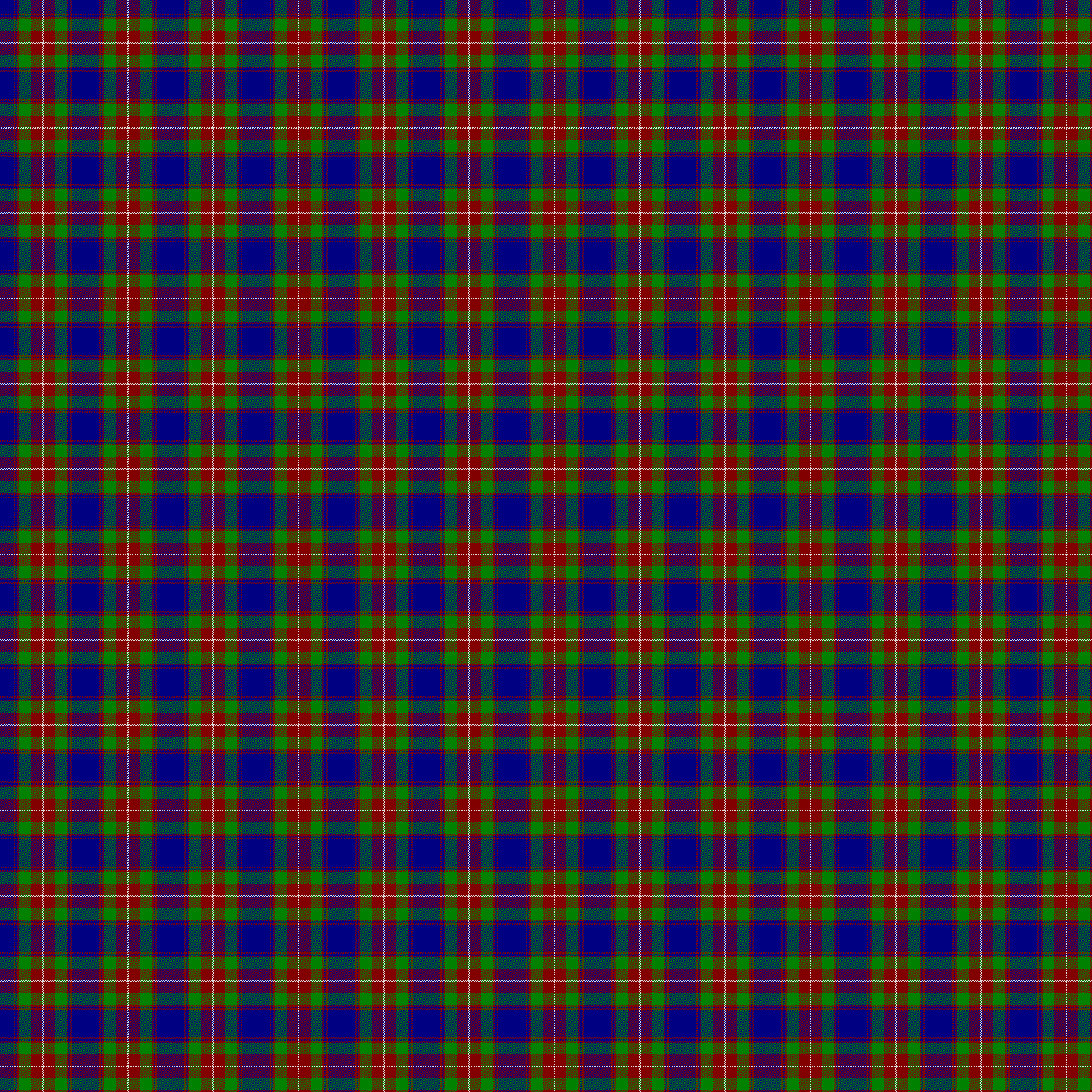 If you look up Fraser tartans it's not exactly a match but it's close. Especially with White as the pivot point. This app requires much more playing about. And I mean that in a GOOD way.
I saved this tartan as a Wallpaper to the tablet. Doing a brief search I couldn't find where it was saved, but as I know what the numbers are I can redo it and save it again if I wish.
This App looks to be tons of fun. Throw caution to the wind and start making those cool Tartans.