OFF THE BEATEN PATH
THE JOHN KNOX HOUSE
John Knox, the Scottish clergyman, was born about 1514 and died on the 24th of November in 1572. A well known writer, Knox is considered the most influential person in introducing the Protestant reformation intro Scotland.
It is thought that early in his career he was educated at St. Andrew's. The times were turbulent and he was caught up in the murder of Cardinal Beaton. He was exiled to England where he was a royal chaplain to Edward VI of England. After the reestablishment of Catholicism by the Tudors, he was forced to leave his position and went to Frankfurt and Geneva where he met John Calvin who influenced his involvement in reformation theology. He headed the English refugee church in Frankfurt until differences about the liturgy caused a permanent break with the Church of England.
Returning to Scotland he led the Protestant reformation in concert with the Protestant Scottish nobility. There was great tension between Knox and Mary Queen of Scots which persisted to the degree that he called for her execution for the murder of her husband Lord Darnley.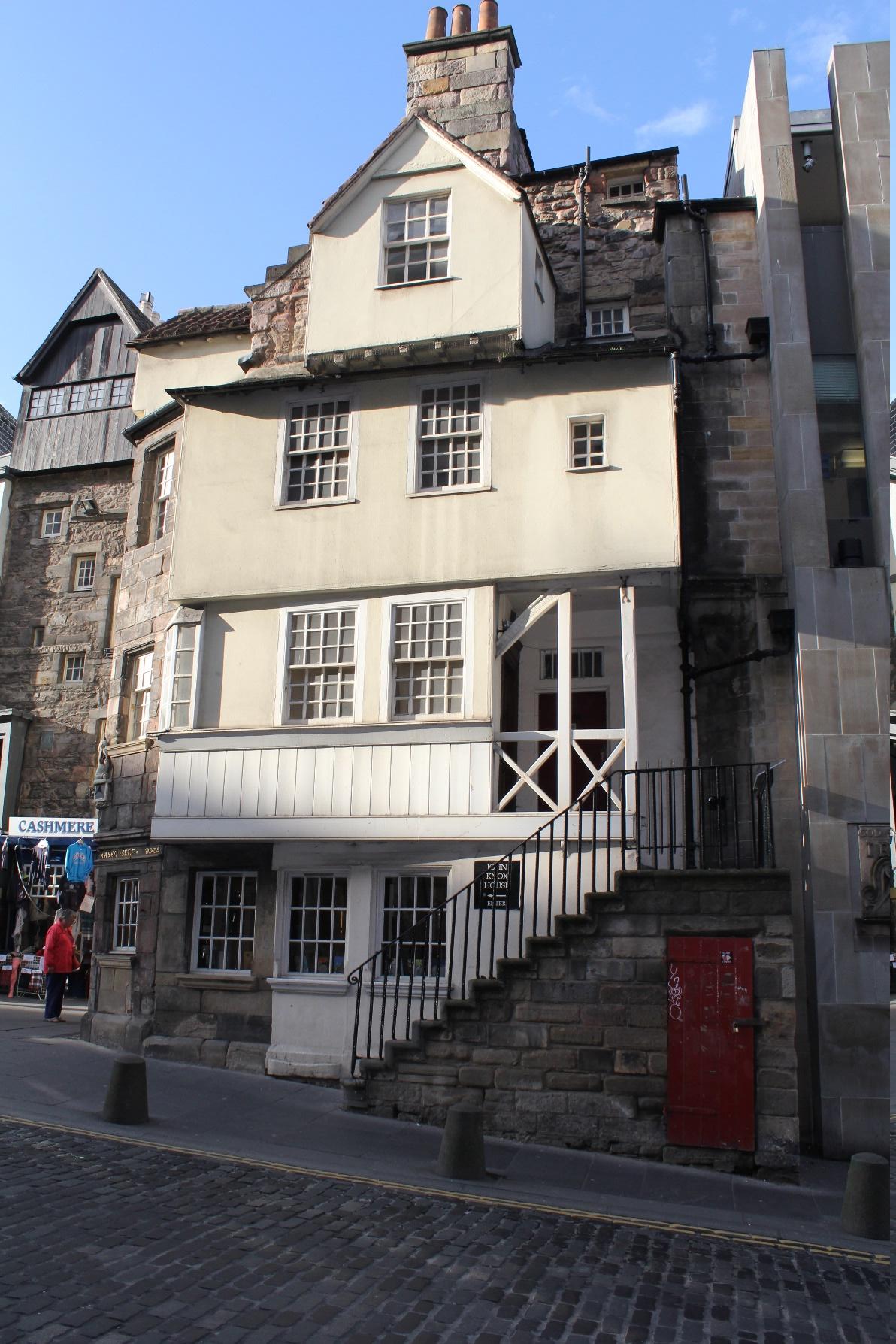 John Knox House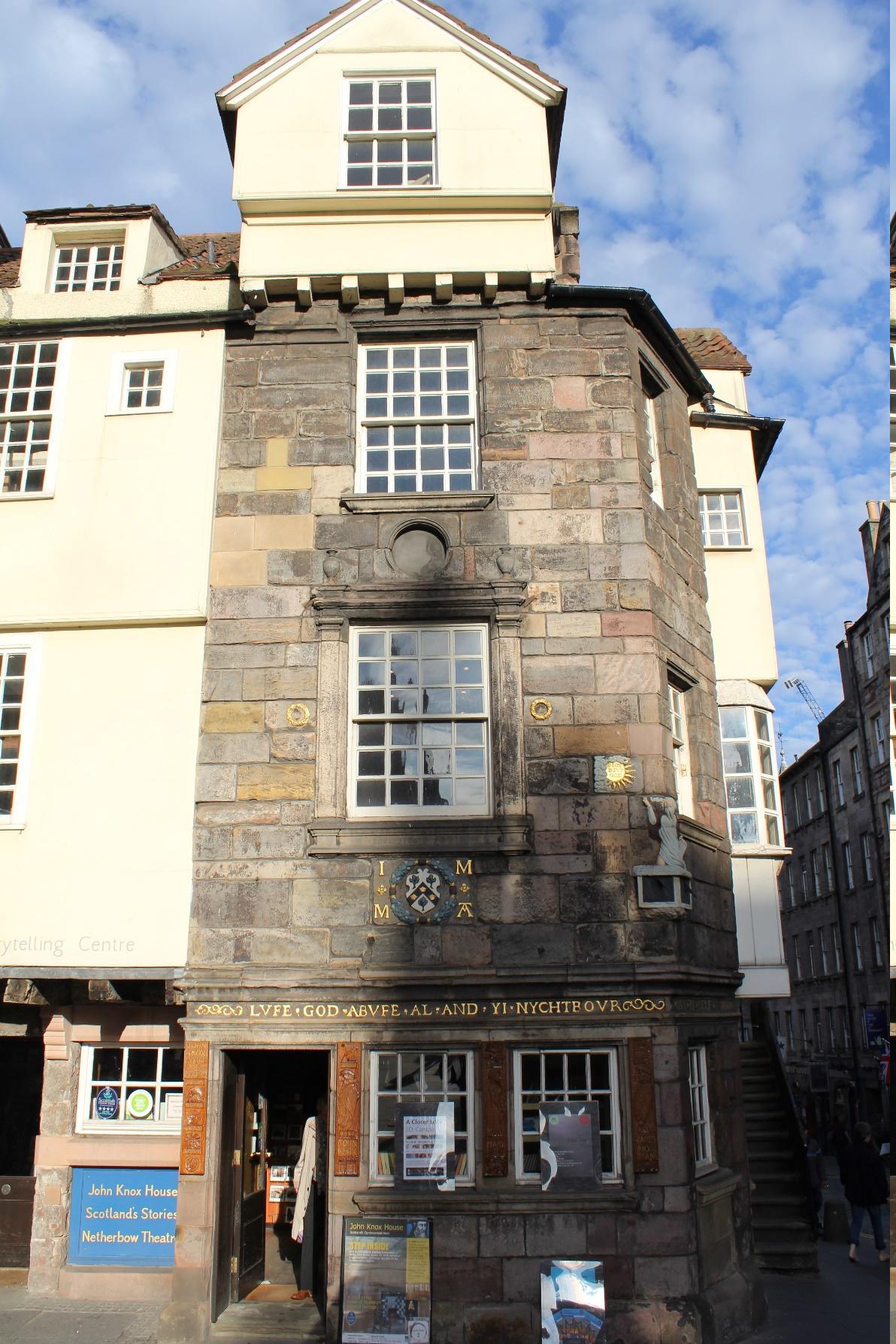 John Knox House
Entrance to Exhibits
The John Knox House Museum is a building located on the Royal mile between North Bridge and At. Mary's St. The earliest part of the building was built in 1490 – 2 years before Columbus' voyage to "the new world" There is some question as to whether Knox ever lived in the house, although a pamphlet claims he lived there for a few months before his death in 1572. It is his association with the house which saved it from demolition. He seems to have lived nearby at a house on Warrinston Close where a plaque can be found marking the place.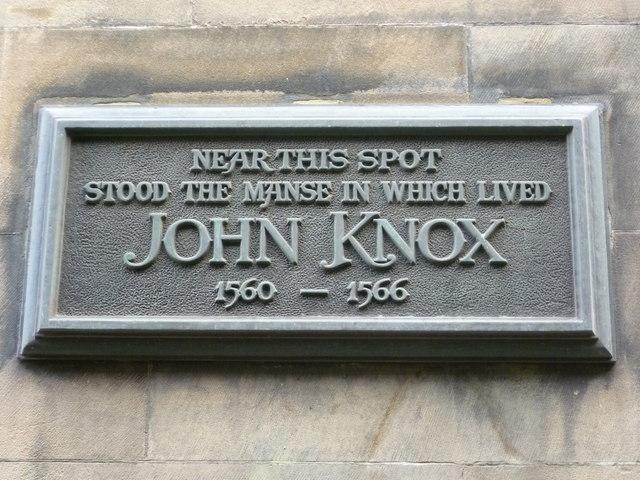 The John Knox building on the Royal mile (43-45 High Street), claims the distinction of being the only medieval building (or at least one a few) surviving in Edinburgh, The house contains a number of interesting exhibits and presents the history of the years of the reformation. The Scottish Story Telling Center can also be found in the building.
The building is open Monday- Saturday 10am-6pm and also on Sundays from 12pm - 6pm in July and August. There is a small entrance fee for adults of £5.00. Concessions are - £4.00. Children over 7 - £1.00 while children under 7 are admitted free.