THE HIGHLAND DIVAS
Three women with rather diverse backgrounds, but a single soul, make up the group known as the Highland Divas. The three women are Marla Cavanaugh, Margaret Kelly, and Georgia Johnson.
Ms. Cavanaugh whose father is Scottish comes from Dunedin, but not Dunedin Scotland, but Dunedin New Zealand. Margaret Kelly and Georgia Johnson hail from Glasgow – Scotland that is. As a group, the three represent the Scottish diaspora, Scots and hyphenated Scots together. In addition, the three women come from somewhat different performance backgrounds Ms. Cavanaugh's training is largely operatic and she has appeared in a variety of opera houses around the world singing a number of roles such as Mimi in La Boheme, Pamina in Die Zauberflöte. Ms. Johnson on the other hand went to Glasgow's prestigious Musical Theatre Course at Knightswood Secondary School in Scotland and came to the US where she had a scholarship to the American Music and Dramatic Academy. She was hired very quickly after graduating to sing in the musical Shout! And a number of other roles followed such as Sharon in Girls Night Out. Ms. Johnson is also the first non-American to have become a "Liberty Bell(e)" and performed with the U.S.O. A true triple threat performed, she sings dances and acts with equal skill.
Ms. Kelly is one of the founders of "The Highland Divas". Her career began performing in Scotland where she impressed audiences with her impressive voice which has been referred to as "cathartic". She has performed and recorded a number of leading roles in such musicals as West Side Story, My Fair Lady, Les Miserables, The Full Monty and Cats. She was awarded a scholarship to the American Music and Dramatic Academy. Her exceptional musical talent enabled her to get a Green Card here in the States.
The idea for the group was the brainchild of Ms. Kelly, Ms. Cavanaugh and her twin sister Marissa. The three came up with idea about three years ago. They wanted to create something for themselves that reflected their Scottish heritage and gave them the opportunity to blend their different vocal styles & musical breadth while highlighting the oft overlooked music of Scotland. With Marissa living so far away in Australia, it quickly became obvious that the group needed to move forward and Marissa would join the group only when she was in the US. Despite the loss of Melissa, the group was still committed to 3 part harmonies & just last year located a complementary 3rd member in the person of Georgia Johnson. They have been steadily "building their own brand" and their own show. Their full length show is scored for either 6 piece or 10 piece band. Each song has its own arrangement built from the ground up for their particular voices.
In the last 2 years they have staged three full length shows in New York City and on Long Island and have performed at many Charity Events for The Tunnel to Towers foundation, the American Scottish Foundation & the St Andrews Society.
The Highland Divas sang in Bryant Park for the unveiling of the "Wee Kelpies" & on Al Jazeera World News, live from St Andrews, on the night of the referendum. They were flown to Pearl Harbor to sing the 9/11 commemoration out there and will be singing a second television segment for the iconic "Positive Thinking" show Hour Of Power after receiving a large amount fan mail from around the world - which is very nice! After Ms. Cavanaugh appeared with the Greeley Philharmonic in Colorado two years ago, The Highland Divas were engaged to sing for their Poinsettia Pops program this Christmas just past. Five new orchestral arrangements were created for this engagement.
Their next appearance for them is a show at the Metropolitan Room in Manhattan (34 West 22nd St.) on April 8th in honor of Tartan week
The journey they have taken in forming this group seems to be a remarkably personal one. Each of the divas has departed from a developing career in the more popular genres of the musical theater and opera to return to their own roots in Scottish songs. Perhaps it is the intense personal commitment which makes their singing so intensely moving.
The Highland Divas have a web site, which contains a plethora of information about the group and their programs and performances.
> You can listen to their performances on their web site and we are sure you will say with us after that "The Highland Divas are "divine"!
---
Scottish Gaelic And Common Sense vs Facebook. Who Will Win?
by cecilia fx



Gabhan Mac A Ghobhainn - who is from from Glasgow - has used the Scottish Gaelic spelling of his name for several years, now. Both in his real life and on Facebook. For at least the last half year Facebook has decided to implement a moronic "real name" policy. How are they deciding what IS a real name? Gabhan Mac A Ghobhainn was denied access to his Facebook account because the Facebook programmers don't accept HIS spelling of HIS name. Mr. Mac A Ghobhainn feels the problem is that Facebook doesn't have a "Scottish Gaelic Option". Frankly, the problem is much deeper than that.

It's estimated that there's about 70,000 Scottish Gaelic speakers worldwide. Facebook may consider that a minority language but so what? Scottish Gaelic is still a real language, and real people use it. Where is the respect? Who put Facebook in charge of deciding what is a real language?

This "real name" policy affects a wide variety of situations and people. It's not just how some people spell their names, it also affects people from different cultures, different family situations, privacy, security and so on.

I've come across others who have run afoul of this "real name" policy. Members of the LGBT community have had a very public run-in with their professional names being discounted, at least temporarily. Native Americans have also been insulted by this nonsense and as of this writing their right to spell their name as they wish has not been accepted. I'm sure this will continue to be an issue because more people from other nations and cultures are accessing the Internet.

Once the automated Facebook system had "decided" your name is not "legitimate" you are blocked from getting into your Facebook account. There's no easy way to contact Facebook when one is blocked. When you try to log back in they ask for documents, which I find offensive. Facebook is not a bank, not the government. They DON'T deserve my social security number or my DNA! There are rumors that Facebook is planning to make it possible to vote from their site. Well, I am NOT interested in voting that way. And I don't wish to buy anything via Facebook.

I understand that many people don't have an issue with using their family name on Facebook, however, there's valid reasons for why a person does NOT wish to use their legal, family name online and in public. What about young people who don't wish to be the target of perverts? Even famous people are targets. What about women who have been victims of real life abuse and don't wish to allow their abuser to LOCATE them online? What about people who use a professional name? In my case, before the Internet existed I had become fed up with people who could never spell my name correctly and had long ago dropped it, using only my first name Professionally. When I first went online in the early 1990's - and Facebook did not even exist - I decided then to NEVER use my family name on the Internet. I have every right to protect my privacy. And I have every right to use a nom de plume. Who the heck are these people at Facebook to decide for ME what name I wish to use in public? When I was reading about Mr. Mac A Ghobhainn the article said he was outraged. Well, as an adult I completely agree. The fact that he HAD to start a petition to get Facebook to acknowledge that he's a grown up who has the right to spell his OWN NAME the way HE wants is shocking! I don't know if Mr. Mac A Ghobhainn is back on Facebook, but I and many others are not. Plus, their feeble attempts to KNOW what a real name is can easily be thwarted. If one is willing to make up a "normal name" (e.g. John Smith), one can log on easily. I happen to know a Facebook account where the member isn't even human. So, they have failed in their policy already.

As I have said I've been using my Professional non de plume for years - long before Facebook existed, but what if a person is starting out in their career and they JUST created their Pro Name? Are they NOT allowed to use it? The problem is that there's not necessarily any legal documents with one's professional name. In my case it's entirely used on line. And WHY should I have to prove anything to Facebook? I've read that Facebook wants you to make a "PAGE" for professional use rather than a personal account but I've had my personal account on Facebook for years and I would lose all of that because I can't have my family name exposed. They don't seem to understand that when hackers attack Facebook accounts I don't want the criminals knowing MY family name.

Facebook doesn't seem to believe there's any danger online: how not to get swatted. Think again, Facebook programmers. Privacy cannot be ensured on or off facebook. I have no reason to trust Facebook.

And it's not that I desperately "need" to get back on Facebook. I'm doing very well without it. And I will NOT be bullied into revealing my family name when the choice not to was made over 20 years ago. I mean, what is in a name? Not to get all Shakespearean about this but a name is just an identifier. On line I ONLY wish to be identified by my professional moniker. And nothing else. I'm not a criminal and, frankly, I object to Facebook treating me like one.

For those who may not know this, Twitter has a feature where They indicate that you really are YOU (and not some other guy just using your name). Meaning, if you happen to be a famous person they "VERIFY" this fact and then add a check mark next to your Twitter handle. Twitter doesn't force everyone to prove who they are, it's just an extra feature. And in fact, you can't really ask to be verified. It's something they control entirely. However, Facebook should adapt their own version of this feature. The correct policy should be that IF you wish to have a "verified" status THEN you contact Facebook and exchange legal documents or whatever to prove whatever it is you want to prove. THAT'S when you can go through a process of showing birth certificates and so on. And - more importantly - no one should arbitrarily be blocked from accessing their accounts.

A while ago G+ tried to implement a "real name" policy and they were slapped down. Fortunately, they listened to people and stopped that nonsense. So far as I know only Facebook is trying to force this on people. This is a bad idea and should be discouraged before it gets out of hand.

Since I can't get on my account, feel free to post this article for others to see. The account you save may be your own!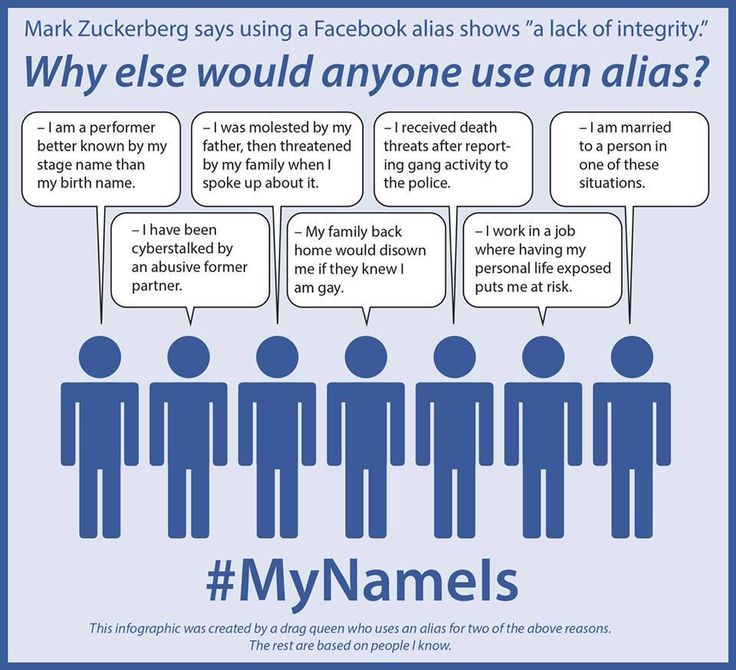 In case anyone is interested my Professional name ("fx") refers to what I have done during the second half of my career. Namely "special effects", or "visual effects". It's mostly compositing done in postproduction. When I was forced to add a Last Name for an email address back in the 1990's I figured "fx" made the most sense for me.
Late addition: New article about this problem.
---
Tweets
collected by cecilia
Meet Velma the Velociraptor!
I just like the idea of a tartan suit.