OFF THE BEATEN PATH
THE PIPERS COVE
Kearny, NJ was heavily populated at one time by Scots who had arrived to work in the Clark Thread factory, and the town became a little bit of Scotland in New Jersey. But over time, the population of Scots diminished and new immigration laws which reduced to the quota for Scots led to a marked decrease in the number of Scots.
None the less a number of Scottish businesses have survived and continue to flourish. Some of these businesses have found their way onto the pages of previous issues of The Scotia News. This month, we visit The Pipers Cove at 212 Kearny Ave. in Kearny.
There has been a Scottish store in that location for some time, but it wasn't until 1982 that Joan and John Nisbet formed a company called The Pipers Cove and took over the space previously held by The Kilted Piper. This was the beginning of the present Scottish and Irish gift shop which now stands at the corner of Kearny Ave. and Boyd St.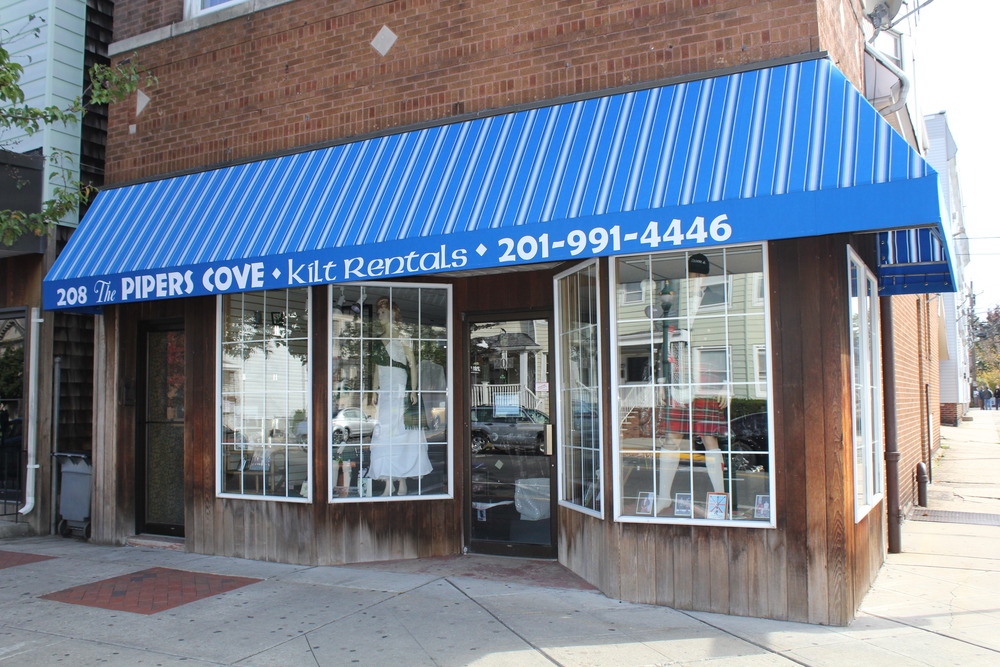 Mrs. Nisbet is originally from Northern Ireland where her Scottish ancestors had moved some generations before. She became a registered nurse and midwife in Ireland and then came to America for a short stay - and stayed and never moved back! She continued to work in the area of health in the U.S. where she met and married John Nisbet, who had been born in Musselburgh, Scotland. He came to the US where he was employed as a supervisor in a tool and die company.
The couple has a son, Colin and a daughter Deirdre. Colin works at the Pipers Cove regularly and in addition is a fine piper, as is his father (who is semi-retired). John has competed in piping competitions and is still active in pipe bands and several Scottish organizations in the area. When they are not at the shop, both John and Colin can be found playing at many events in the area. Colin is waiting to be called for a fire fighter job with one of the local fire departments. Deirdre can be found in the shop on Saturdays when she is not working in advertising.
The shop is small and cozy with a multitude of fascinating items. You can get most anything from jewelry and quaichs to Iron Bru and other sweets found in Scotland. If you feel musical you can get anything from whistles to drums and bagpipes there. The Pipers Cove can also outfit you with a full high quality kilt outfit which you can either rent or buy from them. The Nisbets report that one of the more interesting things they have noticed is the high number of people who are not Scottish or Irish who are renting kilts for different affairs. Almost all ethnic groups have appeared at the shop to rent kilts for weddings and other important celebrations where they have chosen to wear formal attire. The Royal Bank of Scotland makes use of The Pipers Cove as their supplier of rented kilts for some of their formal events.
The Pipers Cove sells not only from their shop but does a mail order business. Their web site at The Pipers Cove will give you all the information you will need to learn how to order goods from their shop. The trip to Kearny from New York is short and well worth it to see the shop and meet the various members of the charming Nisbet family.