Scottish Events in the News
Scotland House in New York City Burns to the Ground
New York City's famous Scotland House was burned to the ground when a deranged Scot claiming to be a "traditionalist" accidentally set fire to the place while practicing for Beltane. He claimed he had hoped to go to Scotland this year for the festival on May 1 and set fire to the New Parliament house as a show of support to traditional Paganists. Apparently the fire starter has been masquerading as a piper and been going to every Scottish event with a haggis and bringing with him his specially constructed 1 quart Quaich.
Loch Ness Monster Sighted in Loch Lomond
There have been growing reports that a sea serpent, now definitively identified as Nessie, has been spotted in Loch Lomond. It is not clear whether Nessie watchers (close kin to whale watchers) have driven the poor serpentine creature out of Loch Ness in a desperate bid for privacy. Another possibility is that Nessie is simply taking a break and has gone South on a vacation. There were reports that Nessie had been planning a trip to the U.S.A. but had been unable to find the time to go to London for a visa. (We cannot confirm this, but some say that it is not possible to go to the USA without a Visa. Mastercard and American Express just won't)
American Denied Immigration into Scotland
An American reports that his petition to become a resident in Scotland was turned down. The stated reason was that when he was asked why he wanted to move to Scotland he responded by saying "I love the weather there". The petition was denied on the grounds there are already enough crazy people in Scotland and they didn't need any more immigrating from the USA.
Burn's Night to Be Replaced
by Tom Doran
Burn's Night celebrations are to be alternated with McGonagall Night every other year. Word has reached us that the Scottish government, in an attempt to honor another Scottish poet of merit, has decided that William Topaz McGonagall will be that poet. But because it will prove to be too expensive to start a publicity campaign from scratch and find an appropriate date for the celebration (keeping in mind that no one can remember on which day to celebrate Tartan Day), the government thought it best to alternate the immensely popular Burn's Night every other year with McGonagall Night starting in 2014 - the year of the Scottish Referendum on Independence.
"We think that this will help people to understand and appreciate that there is more than one famous Scots poet," said a government spokesman. "Besides, everyone will already be celebrating – pubs and public rooms will be booked far in advance, and once everyone is drunk, no one will be able to tell the difference between ' Tay Bridge Disaster' and 'Address to a Haggis.' " so it makes good, common sense. We aren't referred to as "canny" for nothing. And really, Robert Burns has been in the spotlight for a very, very long time. It's time for him to let someone else share the limelight."
Suggested presentations on the night of the celebration will include a reading of "The Tay Bridge Disaster", with a model simulation of that terrible disaster of 1879 to accompany the reading – not unlike the cutting of the Haggis. In this case the broken bridge pieces will be made of chocolate and dished out to those with a sweet tooth.
April Fool's Day Canceled this Year
April Fool's Day has been canceled this year. People have become so foolish year round it was decided that a special day was no longer necessary. Well, have a good April Fool's Day anyway!
---
Who Are the Highlanders? - Pamphlet
The pamphlet "Who Are the Highlanders?" was written by I.R. MacKay in 1966 and revised in 1976 © 1967 with illustrations by Gordon Harvey. It was printed by Caithness Books, 1 Bank Street Thurso, Caithness and was published by An Comunn Gàidhealach with whose kind permission we publish it here.
These pamphlets have been scanned and therefore are large image files.
Click each link to read one page at a time
---
The "Great" McGonagall
When, or if, you ask someone if they have heard of a person named McGonagall - you'll probably hear a "yes" - or an "aye" - and 9 times out of 10, if not 100% of the time, they will be referring to Minerva McGonagall - the Scottish Wizarding teacher at Hogwarts, in J.K.Rowling's enormously popular Harry Potter novels and the films made from them. As portrayed by Maggie Smith, she is indeed a memorable creation.
But Rowling, the English author who resides in Scotland didn't pull that seemingly odd name out of a wizards hat. In fact, she purposely named her creation after one of Scotland's most infamous and derided (and deluded) poets - William Topaz McGonagall.
Born around 1825, he was originally a hand-loom weaver - a common enough profession in Scotland in those days. He seemed to be a rather strange and melodramatic character from early on. He discovered he had an affinity for acting, and trod the boards now and again in a rather embarrassing manner (one story suggests, while playing Macbeth, he refused to die at the end).
One day however, he seems to have had a mystical awakening - he claimed he was overcome with some strange force and the revelation of this experience? He was now a poet.
He went out into the unsuspecting world, reciting his works in public. Apparently, he was taken for a comic artist - and would often be pelted with fruit - which did not dissuade him from his new path in life.
He published and handed out various handbills of his poetry - all of which was considered as bad as bad can be - dreadful metaphors, bad timing - and just a poor understanding of what was required of even basic writing standards.
Hoping to get paid for his writing, he wrote Queen Victoria, presenting himself in hopes of her becoming his patron and the Queen's Poet Laureate. He got a rejection letter, but for some reason he took it to mean the opposite! At one point, he walked over 60 miles in a raging storm to visit the Queen, then in residence at Balmoral. Needless to say, presenting himself unannounced was not about to get him in to see Victoria, nor to usurp the current poet laureate, Lord Tennyson. The palace guards were not amused and showed him the road back home.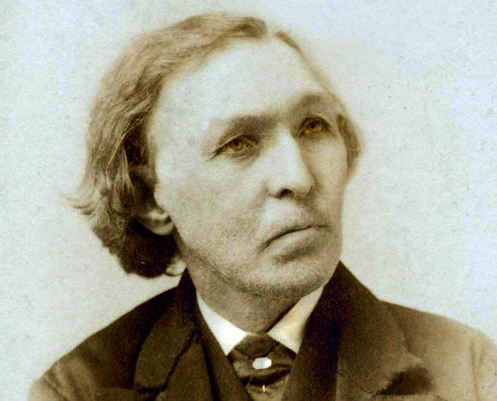 He wrote a poem about his "epic" walk of which this is a stanza:

And Balmoral Castle is magnificent to be seen,
Highland home of the Empress of India, Great Britain's Queen
With its beautiful pine forests, near by the river Dee,
Where the rabbits and hares do sport in mirthful glee,
And the deer and the roe together do play
All the live long summer day,
In sweet harmony together,
While munching the blooming heather,
With their hearts full of glee,
In the green woods of Balmoral, near by the river Dee. 

More amazing still, not even being stopped dead at the gates of Balmoral would or could stop him - he worked as hard as he could to make a living, performing in pubs and in front of any other audience he could find - in London, Dundee, even America. He performed in a circus reciting his dreadful poetry, and it was considered part of the act to hurl food at him. He seemed to enjoy this! And there is some speculation that he indeed fomented some of this in order to enhance his reputation - and thought probably it was normal audience behavior for a circus. in any event, he didn't seem to realize how poorly he was actually being received. The circus appearances got so nearly out of control that the city fathers of Dundee banned him from performing. His response? A terrible and ineffective poem directed at those who stopped him from making a living.
In ancient Gaelic Ireland and Scotland, poets had great standing - indeed, one way to disturb and injure someone was to write satirical poems about them. The shame inflicted by a well-turned verse could cause serious social consequences - not so in the day and age of McGonagall, and his deadening words fell flat.
Friends helped him publish, and find work now and then - but he was never really on firm ground financially. For a few years he was popular (though derided) enough, but it couldn't last and the thrill of laughing at him wore off.
He died in extreme poverty, believing in the end that he was a great poet. His most famous poem, and really the only one anyone ever references is "The Tay Bridge Disaster." The Tay was a railroad bridge in Scotland that collapsed during a dreadful storm in 1879, killing all the passengers on a passing train.
Here is the first stanza:

Beautiful Railway Bridge of the Silv'ry Tay!
Alas! I am very sorry to say
That ninety lives have been taken away
On the last Sabbath day of 1879,
Which will be remember'd for a very long time. 

Here is the last stanza:

It must have been an awful sight,
To witness in the dusky moonlight,
While the Storm Fiend did laugh, and angry did bray,
Along the Railway Bridge of the Silv'ry Tay,
Oh! ill-fated Bridge of the Silv'ry Tay,
I must now conclude my lay
By telling the world fearlessly without the least dismay,
That your central girders would not have given way,
At least many sensible men do say,
Had they been supported on each side with buttresses,
At least many sensible men confesses,
For the stronger we our houses do build,
The less chance we have of being killed.

In 1974, Spike Milligan (the most extreme of the famous British comic troop, The Goons) made a rather bizarre film about him, called appropriately enough, The Great McGonagall - but it seems to have been more "goonish" than historical - and is pretty much unknown to this day. Peter Sellers played Queen Victoria - and knowing what we know about McGonagall, he would have thought it all appropriate that he should be so honored. And quite possibly have not seen the humor of it all.