On and Off the Beaten Track
In Scotland
Rosslyn Chapel
Rosslyn Chapel is a short trip from downtown Edinburgh in the village of Roslin, and easily reached by local bus service. Sir William St. Clair founded the Chapel in 1446. It currently serves as a functioning Episcopalian Church, and has incredible architecture and many spectacular works of art within it, many of which are highly unusual. Both Christian and pagan images abound. There are carvings of angels with bagpipes, and the chapel boasts hundreds of carvings of "Green Men", a pagan symbol of vegetation and fertility.
There is also a carving reputed to be the death mask of Robert Bruce. Carvings of what might easily be taken to be maize, have led some to believe that there had been pre-Columbian contact with North America.
Its history is intertwined with symbols of the Knights Templar and of Freemasonry. The name Sinclair is linked to Masonry and Hugues de Payen, a Templar leader was married to Katherine St. Clair (Sinclair). The famous "Mason Pillar" and "Apprentice Pillar" can be found in the Lady Chapel.
There is small coffee shop and a gift shop with many wonderful books, video tapes and gifts. An excellent guidebook, "Rosslyn Chapel" by the Earl of Rosslyn is available, as are videotapes of the chapel itself. There is also a Rosslyn Chapel Association, the members of which receive a number of benefits, including free admission.
The trip to Rosslyn Chapel from Edinburgh is short and well worth making.
(Click on picture for a larger image)

One of the many "Green Men" found in the chapel

For more information about this fantastic place, go to their web site at: rosslyn-chapel web site

If you would like more information about Scotland, visit the web site for the Scottish Tourist Board:
In New York
Statues of Robert Burns and Sir Walter Scott in Central Park
By far less spectacular than Rosslyn Chapel, are the statues of Robert Burns (1759-1796 ) and Sir Walter Scott ( 1771-1832) in New York's Central Park. None-the-less it is nice to know that a number of statues of Scots can be found on the New York landscape. To see the statues, enter the park from the 5th Ave. side at about 66th or 67th Street. Go west to the Literary Walk and the two statues face one another at the south end of the Walk.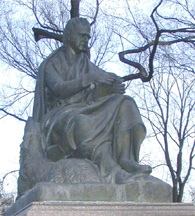 According to the plaque, the statue of Sir Walter Scott was sculpted by Sir John Steell and was dedicated in 1872. Present at the time were a legion of Highlanders from New York State's 79th Regiment and members of the New York Caledonian Club. The monies for restoration of the statue and a fund for its maintenance have been supplied by the St. Andrews Society
Scott, of course, best known for his novels like Waverly, Ivanhoe, Rob Roy, Heart of Midlothian and the Bride of Lammermore, and his poetry. He was also a translator of several works and a historian.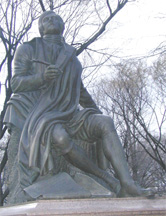 Robert "Rabbie" Burns was born Jan 25th in Alloway, Ayrshire, His birthday is practically a national holiday. He is here immortalized in Sir John Steell's statue dedicated on Oct. 3, 1880. At the event more than 5,000 people, many in full Highland dress.
A national hero, Burns authored an incredible number of poems in his short life,. probably the most famous being "Auld Lang Syne", with "Scots Wha' Hae", "Tam O'Shanter", and "To a Mouse" all running close behind.
On Oct. 26 1996, the 200th Anniversary of his death, hundreds of people gathered at the statue. Jean Redpath, the world renown folk singer performed. The event was supported by the Burns Society of the City of New York, the American Scottish Foundation, the St. Andrews Society of the State of New York, the New York Caledonian Club and Scottish Heritage U.S.A.
---
CRYPTOGRAM

P ETPDRK PE JOPITFQW, DYRQ DXTT DR JRR BPHK TXUR FZFXQ, IYFI EPHZYI FQW WXRW EPK, BPHK DRR LXI YXTT FQW ZTRQ,

LB KPB DXTTXFSJPQ

Answer to the last issue's cryptogram:

FOR WE FIGHT NOT FOR GLORY NOR RICHES NOR HONOR, BUT FOR FREEDOM ALONE WHICH NO GOOD MAN GIVES UP EXCEPT WITH HIS LIFE

This is from the Declaration of Arbroath which is dated April 6th and is the date on which Tartan Day is now celebrated.
---
SCOTTISH QUIZ
Can you identify the film from the description and the star?
A cargo of liquor washes up on the shore of a small island.
A unique schoolteacher at the conservative Marcia Blaine girls' school has an enormous influence on the students. Is it for good? Or is it for bad?
A young boy starts to exercise and becomes a great athlete
Scottish youths are involved in drugs
A hairdresser goes to the United States to win "The Platinum Scissors"
Give yourself extra points if you can name year of the film and the lead performers in them!
Answers to last issue's quiz.
Stirling Bridge 1297
Bannockburn 1314
Flodden 1513
Glencoe 1692
Culloden 1746
---
SCOTTISH TIDBITS
"Scot Free"
What Scot and free of what? This is one of those interesting bits that comes along every so often where people think words mean one thing, but they actually mean another. So what has this got to do with the freed Scot? Well, actually nothing. There isn't one. In this case, "scot" is a Norse word that refers to an amount of money assessed or paid. Hence to get off "Scot free" means to get off without having to pay money.