Caldwell Lecture at St. Andrews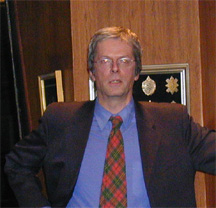 Dr. David Caldwell of the National Museums of Scotland lecturing at the St. Andrew's Society

Dr. David Caldwell, Keeper of History & Applied Art in the National Museums of Scotland, lectured for the Caledonian Club of New York and the St. Andrew's Society, on March 26, 2002. The lecture was held at the beautifully appointed offices of the St. Andrews Society at 50 East 55th Street.

John Hilliard opened the program and was happy to see the Caledonian Club and St. Andrew's Society operating together in this event. He introduced Jim Campbell, Chief of the Caledonian Club who echoed the sentiments.

Dr. Caldwell discussed the changes in warfare through the medieval period. He discussed that while looking at major battles might be one way to decide on victories, there were other possibilities. He spoke of the raiding the Scots carried out across the borders and how disruptive and expensive it was to the English.

He examined some of the changes in technology and social structure that occurred during this period how these had an effect on different practices in battle.

Dr Caldwell's main point was that although the Scots were faced by an enemy (England) with greater man-power and wealth, and were often beaten decisively in pitched battles, they managed to resist complete subjugation, and were such a nuisance value that the English establishment saw the acceptance of a Scottish king, James VI and I in 1603, as a real opportunity for security and lasting peace. Dr Caldwell posed the suggestion that this amounted to victory of a sort for the Scots!

William Wallace, Caldwell noted, has achieved, in part due to the film with Mel Gibson, has achieved great deal of notice, while Robert the Bruce, whose contributions are much greater is less known and certainly has not been the subject of any recent films.

A question and answer period followed the lecture and a reception for Dr. Caldwell, brought the evening to a close.
---
Caledonian Ceilidh

On March 22nd more than 70 people showed up for the Caledonian Club's first ceilidh of the year at the West Park Presbyterian Church at 86th Street and Amsterdam Ave. Jim Denny, the organizer of event did a phenomenal job. There was food and talent in abundance. And a great time was had by one and all. Susan Scatena did a yeoman's job in the kitchen setting up and preparing food. Ann Hankins made superb brownies and Margret Block supplied some cakes. Harlan Whatley donated a case of Tennant's lager.

The entertainment included performances by John Anderson, Nicola Cullen, Andrew MacMillan, Deanna Wolf, and Liz Gillan, Robyn & Brian O'Neil, Anna Blyth, Jack Blyth and Priscilla Campbell. Ann Hankins directed a never to be forgotten performance of "Snow White" performed by the members of the board of directors,

Harlan Whatley previewed some footage from his film "The Tartan Apple" a fascinating documentary about Scots and Scottish Americans in the Big Apple.

Throughout the evening there was music from the The incomparable "Legacy Five" - namely Kay Bromberg and Jared Lee (on the fiddles), Romey Marah (saw, concertina, and supplier of keyboard) , Hugh Doonan (bodhran), Mary Morrisson Abdill (ring leader/keyboard).

Also in attendance was the "Julliard Gang of Six" whose members are Cecily Morrison (fiddle), Stephanie Daddi, Susan Pulley (drums), Natalie Anderson , Joanna (whose last name we don't have) and Natalie Haas (cello. Julliard student.)

Many of the people who were there swore it was the best ceilidh ever, so hats off to Jim Denny for organizing this super-successful event.

(CLICK HERE FOR SLIDE SHOW)