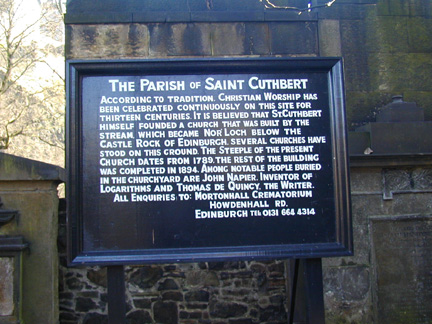 Sign on Church of St. Cuthbert
Since The Parish Church of St. Cuthbert is situated at the base of Edinburgh Castle just off Lothian Road at the west end of Princess Street Gardens, it hardly qualifies in some ways as "Off the Beaten Path". It does seem rather overlooked by people hurrying along Princes Street just north of it. "Overlooked" is the correct word, since the building and surrounding cemetery lies below the level of Princes Street.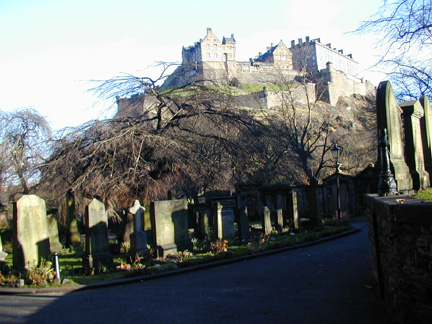 St. Cuthbert
Earliest known records of a chapel dedicated to St. Cuthbert at this location date from the 8th century and there has in all likelihood been a church building on the foundation there since 850AD. This makes this the oldest building in use in Edinburgh, although it has undergone a great deal of renovation and rebuilding.
Of note are the stained glass windows which we authorized in 1893, atypical of Presbyterian Churches. One windows which depicts David and Goliath was manufactured by the Tiffney Glass Company in NY and is one of no more than 3 windows found in the United Kingdom which were made by the company. Images of the stained glass windows can be found at the St. Cuthberts web site: www.st-cuthberts.net/sglass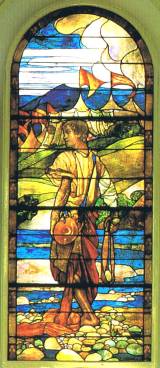 David Going to Meet Goliath
John Napier (1550-1617) of Merchiston is one of the famous people buried at St. Cuthberts. Napier is the inventor of logarithms and is buried in an underground vault on the north side of the church
Another burial found at the church is that of Charles Darwin (1758-1778), who was the uncle of his more famous nephew, the naturalist Charles Darwin, a major proponent of the theory of evolution. Charles (the uncle) was a medical student who became sick and died and was buried in the vault belonging to the Duncan family. The vault is at the Chapel of Ease on the South side of the city, now known as the Buccleuch Parish Church Burying Ground.
The artist responsible for the portrait of Robert Burns, Alexander Nasmyth (1758-1840) was also an architect, and an inventor. His sons, James and Patrick are also well known. James is credited with many inventions including the steam hammer. The other son, Patrick gained recognition as an artist as had his father.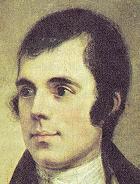 Robert Burns
Author Thomas De Quincey (1785-1859) who wrote Confessions of an English Opium-Eater whose writings has an influence on many authors who followed. Edgar Allan Poe credited De Quincey as having been a major influence on his.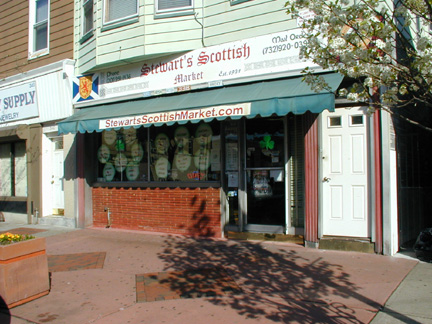 Kearny Jersey is a town of about 40,000 people about 9 miles from New York City's Holland Tunnel. The town is best known to Scots and Scottish Americans as a Scottish town in the U.S.A. Back in 1875 the Clark Thread Company opened two large mills in Kearny which brought thousands of Scots into the area to work. Many came from the area around Glasgow and nearby Paisley.
The town took on a distinctive Scottish character and many Scottish businesses opened - Scottish butchers, bakeries, restaurants and so on thrived. Over time however, things changed and slowly the Scottish business began to disappear. A few still remain and one of these is Stewart's Scottish Market. located at 338 Kearny Ave.
The shop was opened in 1931 by Albert Stewart and his brother Jimmy who were from Paisley in Scotland. Their son Alastair took over the business. The current owner, Alastair Stewart is the grandson of the original owners. Alastair's grandfather's brother Jimmy had another store in Kearny but that is no longer in operation.
April, with Tartan Day/week adds some pressure to the business as orders come in for haggis and other Scottish foods for the variety of events taking place.
Among Alastair's employees is the charming Laura Morchel who is a talented Irish dancer, although she is shown working with some of the sausages made at Stewarts. That's Alastair in the back - he may be the owner by Laura is prettier so we put her up front!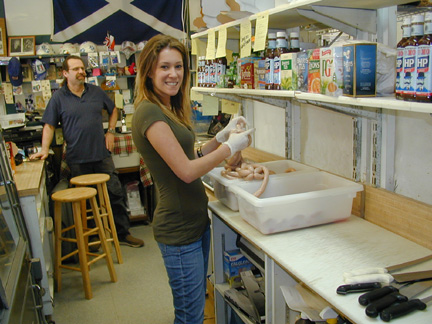 The Keefe brothers, Mike and Patrick both work in the store as well. They also have a band called Cicada Radio. Patrick can be found in the back making the super good meat pies as we see here,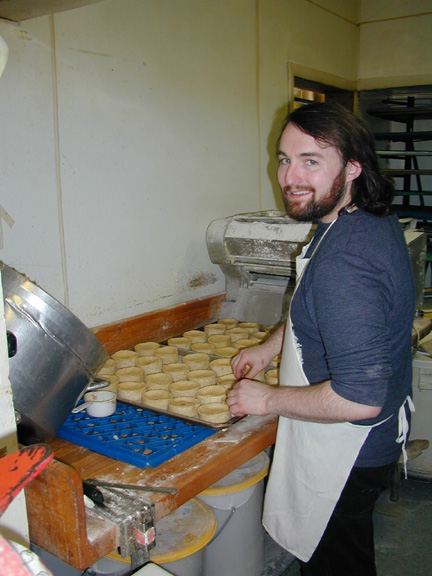 while Mike (pictured below) deals with the problems of packing the foods in insulated boxes packed with ice and sending them off to all parts of the U.S.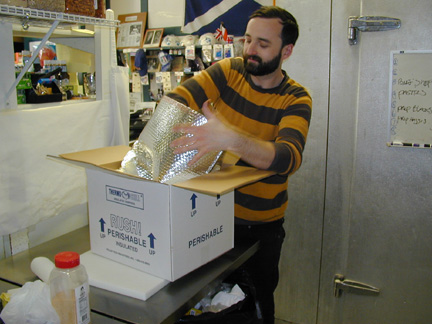 Kearny is an interesting town and still has a sizeable population of Scottish descent and is well worth a visit. No visit to Kearny would be complete without stopping at Stewarts and getting some of the great food products sold there.
In addition to serving the locals, the store supplies Scottish delicacies all over the US and ships as far as Hawaii. Check out their website stewarts scottish market to get a look at their product lines and get your order in!
ARBROATH ABBEY
David Caldwell, Ph.D.
National Museums of Scotland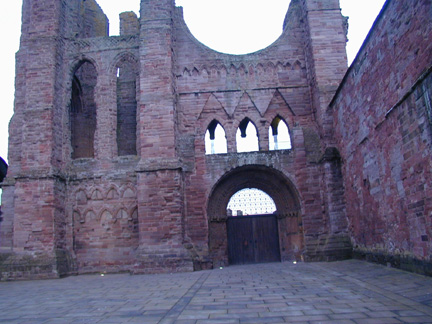 The red sandstone ruins of the medieval Abbey of Arbroath are a prominent landmark in the seaside town of that name, about 18 miles East of Dundee. Here in 1178 King William the Lion (reigned 1165-1214) brought monks of the order of Tiron to establish one of the richest and most prestigious religious houses in Scotland. William had suffered the humiliation of being captured by the English in 1174 and being forced to recognize King Henry II of England as his feudal lord. Officially, the consecration of William's new abbey to Thomas à Becket was because he believed he had intervened from beyond the grave in his capture and should be appeased. Becket, the Archbishop of Canterbury, had been murdered in 1170 by Henry II's knights. It would be nice to believe that William also felt he was getting some revenge against the English king in making this dedication.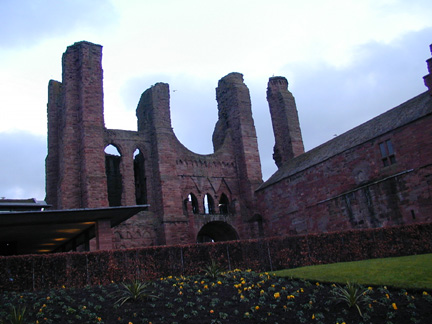 Arbroath Abbey is most famous for its involvement with a powerful piece of writing come to be known as "The Declaration of Arbroath". The document in question is addressed to Pope John XXII, affirming the resolve of the Scots to support their king, Robert Bruce, against claims of English overlordship, and dated at the monastery of Arbroath, April 6th 1320. Abbot Bernard of Arbroath, Chancellor of Scotland has been identified as the man who drafted it.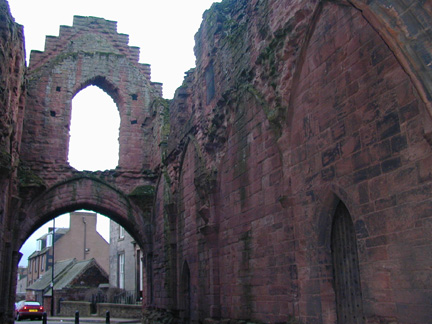 Many historians now doubt whether Abbot Bernard should alone be given the credit for the production of this document. They point to Master Baldred Bisset, a Scottish lawyer with considerable international experience, or Alexander Kinninmonth, parson of Kinkell, who was one of the party who took the declaration to the Pope, as likely authors. It is also now thought to be very doubtful that the barons actually met at Arbroath and appended their seals to the declaration there. Discussing and agreeing its contents probably took place earlier, elsewhere, on more than one occasion. So the document's title, "The Declaration of Arbroath" has been questioned. It is not referred to by this name until after the Declaration of Independence written in 1776 in the US. From the phrasing and ideas contained it is thought by some to have been known to some of the signers of the US Declaration. The leaders of the Scottish community in 1320 would not have seen it as a declaration but, quite simply as a letter.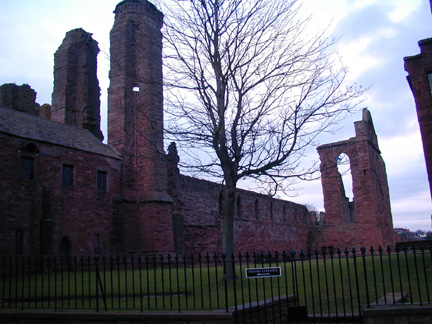 Even the significance or importance of the document has recently been called into question by some scholars. It is only known from a copy preserved in Scotland, not from the version sent to the Pope, nor is there evidence for a specific or direct reply from the Pope. While known to earlier historians it was not given by them the prominence it now has as the most important document surviving from Scotland's medieval past, a veritable declaration of independence.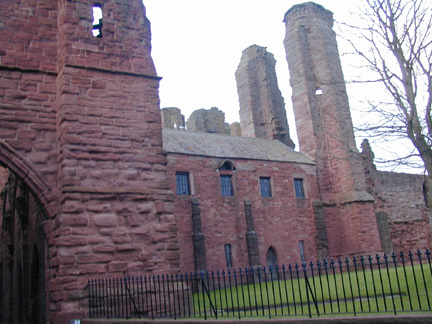 Research and reassessment of our past are of the utmost importance. We should always question the supposed facts that have been handed down to us by our predecessors. So what should we believe about The Declaration of Arbroath? It is certainly a powerful piece of writing, even in translation from its original Latin into English. It shows remarkable skill and judgment in making the case for Robert Bruce to be recognized as king of an independent Scotland. The erudition involved in manufacturing an appropriate story for the origins of the Scots is admirable, even if nowadays it occasions us to smile at its mendacity, and the offer of support for a new Crusade was a clever way to appeal to the Pope. Scottish diplomacy was ultimately successful in achieving papal recognition for their king and independence, and no doubt the Declaration was largely responsible for that.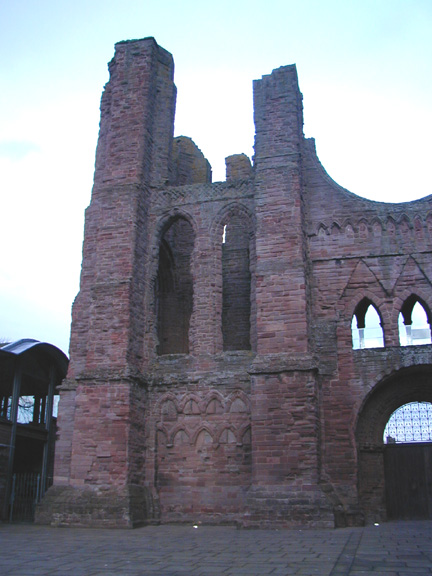 And why not associate it with Arbroath since that is where it reached its final form? There are few better places in Scotland than the ruins of Arbroath Abbey to remind ourselves of the achievements of our ancestors in fighting for an independent kingdom, not only on the field of battle but in international diplomacy. Abbot Bernard and his monks would have prayed for their king and independence in this beautiful church and would have totally understood the sentiments so beautifully expressed in the Declaration.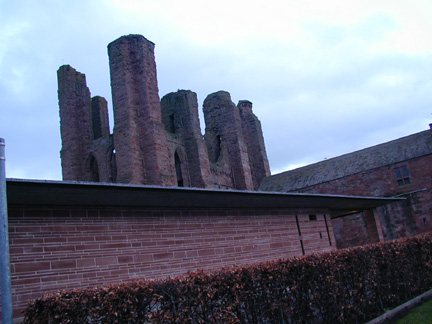 The Declaration of Arbroath 1320 - English Translation
To the most Holy Father and Lord in Christ, the Lord John, by divine providence Supreme Pontiff of the Holy Roman and Universal Church, his humble and devout sons Duncan, Earl of Fife, Thomas Randolph, Earl of Moray, Lord of Man and of Annandale, Patrick Dunbar, Earl of March, Malise, Earl of Strathearn, Malcolm, Earl of Lennox, William, Earl of Ross, Magnus, Earl of Caithness and Orkney, and William, Earl of Sutherland; Walter, Steward of Scotland, William Soules, Butler of Scotland, James, Lord of Douglas, Roger Mowbray, David, Lord of Brechin, David Graham, Ingram Umfraville, John Menteith, guardian of the earldom of Menteith, Alexander Fraser, Gilbert Hay, Constable of Scotland, Robert Keith, Marischal of Scotland, Henry St Clair, John Graham, David Lindsay, William Oliphant, Patrick Graham, John Fenton, William Abernethy, David Wemyss, William Mushet, Fergus of Ardrossan, Eustace Maxwell, William Ramsay, William Mowat, Alan Murray, Donald Campbell, John Cameron, Reginald Cheyne, Alexander Seton, Andrew Leslie, and Alexander Straiton, and the other barons and freeholders and the whole community of the realm of Scotland send all manner of filial reverence, with devout kisses of his blessed feet.
Most Holy Father and Lord, we know and from the chronicles and books of the ancients we find that among other famous nations our own, the Scots, has been graced with widespread renown. They journeyed from Greater Scythia by way of the Tyrrhenian Sea and the Pillars of Hercules, and dwelt for a long course of time in Spain among the most savage tribes, but nowhere could they be subdued by any race, however barbarous. Thence they came, twelve hundred years after the people of Israel crossed the Red Sea, to their home in the west where they still live today. The Britons they first drove out, the Picts they utterly destroyed, and, even though very often assailed by the Norwegians, the Danes and the English, they took possession of that home with many victories and untold efforts; and, as the historians of old time bear witness, they have held it free of all bondage ever since. In their kingdom there have reigned one hundred and thirteen kings of their own royal stock, the line unbroken a single foreigner. The high qualities and deserts of these people, were they not otherwise manifest, gain glory enough from this: that the King of kings and Lord of lords, our Lord Jesus Christ, after His Passion and Resurrection, called them, even though settled in the uttermost parts of the earth, almost the first to His most holy faith. Nor would He have them confirmed in that faith by merely anyone but by the first of His Apostles - by calling, though second or third in rank - the most gentle Saint Andrew, the Blessed Peter's brother, and desired him to keep them under his protection as their patron forever.
The Most Holy Fathers your predecessors gave careful heed to these things and bestowed many favours and numerous privileges on this same kingdom and people, as being the special charge of the Blessed Peter's brother. Thus our nation under their protection did indeed live in freedom and peace up to the time when that mighty prince the King of the English, Edward, the father of the one who reigns today, when our kingdom had no head and our people harboured no malice or treachery and were then unused to wars or invasions, came in the guise of a friend and ally to harass them as an enemy. The deeds of cruelty, massacre, violence, pillage, arson, imprisoning prelates, burning down monasteries, robbing and killing monks and nuns, and yet other outrages without number which he committed against our people, sparing neither age nor sex, religion nor rank, no one could describe nor fully imagine unless he had seen them with his own eyes.
But from these countless evils we have been set free, by the help of Him Who though He afflicts yet heals and restores, by our most tireless Prince, King and Lord, the Lord Robert. He, that his people and his heritage might be delivered out of the hands of our enemies, met toil and fatigue, hunger and peril, like another Macabaeus or Joshua and bore them cheerfully. Him, too, divine providence, his right of succession according to or laws and customs which we shall maintain to the death, and the due consent and assent of us all have made our Prince and King. To him, as to the man by whom salvation has been wrought unto our people, we are bound both by law and by his merits that our freedom may be still maintained, and by him, come what may, we mean to stand. Yet if he should give up what he has begun, and agree to make us or our kingdom subject to the King of England or the English, we should exert ourselves at once to drive him out as our enemy and a subverter of his own rights and ours, and make some other man who was well able to defend us our King; for, as long as but a hundred of us remain alive, never will we on any conditions be brought under English rule. It is in truth not for glory, nor riches, nor honours that we are fighting, but for freedom - for that alone, which no honest man gives up but with life itself.
Therefore it is, Reverend Father and Lord, that we beseech your Holiness with our most earnest prayers and suppliant hearts, inasmuch as you will in your sincerity and goodness consider all this, that, since with Him Whose vice-gerent on earth you are there is neither weighing nor distinction of Jew and Greek, Scotsman or Englishman, you will look with the eyes of a father on the troubles and privation brought by the English upon us and upon the Church of God. May it please you to admonish and exhort the King of the English, who ought to be satisfied with what belongs to him since England used once to be enough for seven kings or more, to leave us Scots in peace, who live in this poor little Scotland, beyond which there is no dwelling-place at all, and covet nothing but our own. We are sincerely willing to do anything for him, having regard to our condition, that we can, to win peace for ourselves. This truly concerns you, Holy Father, since you see the savagery of the heathen raging against the Christians, as the sins of Christians have indeed deserved, and the frontiers of Christendom being pressed inward every day; and how much it will tarnish your Holiness's memory if (which God forbid) the Church suffers eclipse or scandal in any branch of it during your time, you must perceive. Then rouse the Christian princes who for false reasons pretend that they cannot go to help of the Holy Land because of wars they have on hand with their neighbours. The real reason that prevents them is that in making war on their smaller neighbours they find quicker profit and weaker resistance. But how cheerfully our Lord the King and we too would go there if the King of the English would leave us in peace, He from Whom nothing is hidden well knows; and we profess and declare it to you as the Vicar of Christ and to all Christendom. But if your Holiness puts too much faith in the tales the English tell and will not give sincere belief to all this, nor refrain from favouring them to our prejudice, then the slaughter of bodies, the perdition of souls, and all the other misfortunes that will follow, inflicted by them on us and by us on them, will, we believe, be surely laid by the Most High to your charge.
To conclude, we are and shall ever be, as far as duty calls us, ready to do your will in all things, as obedient sons to you as His Vicar; and to Him as the Supreme King and Judge we commit the maintenance of our cause, casting our cares upon Him and firmly trusting that He will inspire us with courage and bring our enemies to nought. May the Most High preserve you to his Holy Church in holiness and health and grant you length of days.
Given at the monastery of Arbroath in Scotland on the sixth day of the month of April in the year of grace thirteen hundred and twenty and the fifteenth year of the reign of our King aforesaid.
Endorsed: Letter directed to our Lord the Supreme Pontiff by the community of Scotland.