Pine Bluff Film Festival – 2005
On Friday September 30 and Saturday October 1 2005, Old Town Theatre Centre, Inc. proudly presents the 12th annual Pine Bluff Film Festival – celebrating with the very special participation of Shirley Jones. The Academy Award winning actress has appeared in several well-known films – Oklahoma, Carousel, Elmer Gantry, The Music Man, and many, many more. She is also very familiar to television audiences for her stint as the musical TV mom of The Partridge Family.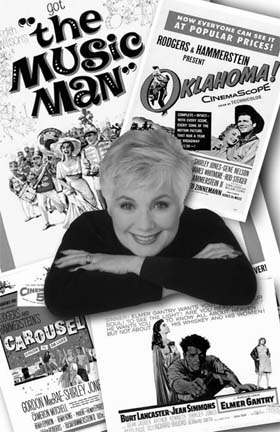 A former Miss Pittsburgh, Ms. Jones has often appeared on the legitimate stage from the earliest days of her career, and still continues to perform regularly on Broadway and on tour. She also appears steadily in feature films and television. In addition to the screening of several of her best films, the gracious Ms. Jones will also be interviewed on stage at Pine Bluff's own Community Theater. The Saenger Theater is currently being assessed for possible rehabilitation and restoration and the yearly Festival helps to publicize the need to save the revered building.
One of the films to be shown this year will be Elmer Gantry, produced in 1960 and directed by Richard Brooks. The film stars Burt Lancaster and Jean Simmons as religious charlatans, going from town to town, setting up their tent and fleecing each community out of their hard-earned cash in exchange for "salvation". Shirley Jones' performance as prostitute Lulu Bains earned her an Oscar that year.
In addition to Elmer Gantry, the Festival will also be showing Oklahoma, Carousel and The Music Man and the special choice of Ms. Jones, The Cheyenne Social Club – giving audiences, both old and new, a chance to hear Shirley Jones doing what she dearly loves to do – sing!
On the 2nd evening of the Festival, Saturday October 1st, Ms. Jones will be interviewed on stage at The Saenger by Foster Hirsch of the American Film Institute. Dr. Hirsch is a well-known author of film and theatre books, as well as being a professor of film studies at Brooklyn College.
On Friday, September 30, 2005, the Festival opens its doors with a spectacular silent film – Erich Von Stroheim's classic film of deceit and betrayal, Foolish Wives. One of the greatest of all directors, Von Stroheim also stars as a bogus Russian count, preying on the foolish and naive wives of the rich and famous among the casinos and beauty of Monte Carlo. The film is rich in detail and character and is quite adult for it's time – daring in its honesty as it depicts all the soiled magnificence of life.
Playing live the accompanying music for the film will be Donald Sosin and his wife Joanna Seaton. Mr. Sosin is one of the world's most famous and well-respected composers and musicians of silent film music. His scores grace many films currently available on tape and DVD. His especially composed score for Foolish Wives also features songs that will be sung live by Joanna Sosin, providing a truly unique atmosphere for a remarkable, artistic and quite entertaining film.
There will also be a unique and informative, appropriately themed film symposium, "Lies, Deception and Fraud" conducted by Prof. John Beatty of Brooklyn College. One of the founders of the festival, Prof. Beatty is a world-renowned anthropologist and documentary filmmaker, and will be making his 12th appearance this year.
Kathleen Majewska, Festival coordinator and proprietor of The Saenger and Community Theatres, says, "We think that we have a tremendous schedule for this year. As always, we try to emphasize that this is a film festival and encourage everyone to attend each screening. Some of these films do not appear on television, and none of the others with any regularity – but to see them on the big screen, as they were meant to be seen, gives them a whole new perspective. The pacing, performances, directing, in short the total effect of the film is vastly different seen on a big screen as compared to one's television. They actually seem like different films. But it is the entire experience of going to the movies that we are trying not only to re-capture, but re-establish. We wish everyone to see these films as they were meant – I promise that you won't forget them if you do."
Ms. Majewska is also extremely pleased to have Ms. Jones as this year's guest of honor. "We are so very lucky to have such a talented and lovely star as Shirley Jones as our featured guest this year. As you know, the festival has attracted such wonderful performers and personalities in the past such as Carol Channing, Douglas Fairbanks, Jr., Fay Wray, Van Johnson, and many, many others. Shirley Jones' upcoming appearance in Pine Bluff adds to the glorious roster of those generous and enthusiastic stars. And we are greatly appreciative as always. Shirley Jones will be a shining light for all of us here in Pine Bluff and we anxiously await her. We hope everyone will take the opportunity to visit with us this coming fall."
The Pine Bluff Film Festival is September 30 – October 1st. For more information, scheduling of events and tickets, please call: 870-535-2646.