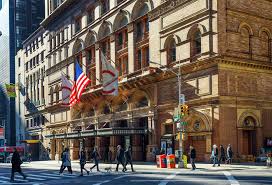 Carnegie Hall was named for Andrew Carnegie, one of the more famous Scottish philanthropists. Carnegie Hall, which he built stands on 7th Ave. between W.56th and W. 57th Street in NYC. Designed by architect William Burnet Tuthill, in 1891. The building is on the US Register of Historic Places, is a US National Historic Landmark as well as a NYC Landmark.
There have been renovations to the Hall over the years some of which felt the acoustics of the Hall had been impacted in a negative way. Ultimately, it was found that a slab of concrete under the stage may have been at fault and after its removal the complaints stopped.
Carnegie Hall Tower, some 60-floors of office space, was erected between 1987 and 1989 It is located next to the Hall on the same block. There is also new backstage space and spaces for banquet found in the Tower which is connected with the main Carnegie Hall building.
Carnegie Hall is not a single auditorium but several different venues. The main hall seats over 2800 people, while the smallest holds 268 seats. Artists from all over the world have performed there.
Each season there are about 250 performances at Carnegie Hall. For many years, it was home to the New York Philharmonic, but the Philharmonic left the Hall in 1962 to take up residence at Lincoln Center.