Black Bun Recipe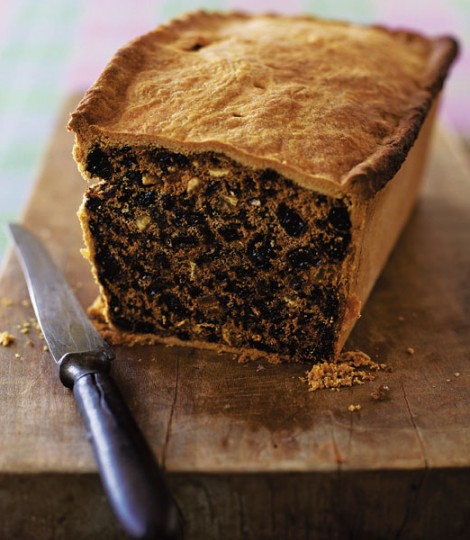 Black Bun is a type of fruit cake completely covered with pastry. It is Scottish in origin, originally eaten on Twelfth Night but now enjoyed at Hogmanay.

INGREDIENTS

For the pastry case:
225 grams (8 oz/ 1 cup) butter
450 grams (1 lb/ 4 cups) plain (all-purpose) flour
1 teaspoon baking powder
butter for greasing

For the filling:
900 grams (2 lb/ 6 cups) raisins
1.35 kilograms (3 lb/ 8 cups) currants
225 grams (8 oz/ 2 1/4 cups) chopped almonds
350 grams (12 oz/ 3 cups) plain (all-purpose) flour
250 grams (8 oz/ 1 1/4 cups) soft brown sugar
2 teaspoons allspice
1 teaspoon ginger, cinnamon, freshly ground black pepper and baking powder
1 teaspoon cream of tartar
1 tablespoon brandy
1 beaten egg
about 150 ml (5 fl oz/ 2/3 cup) milk

PREPARATION
1. To make the pastry case, rub the butter into the flour with the baking powder and add enough cold water to mix to a stiff dough. Leave to rest and roll out to a fairly thin sheet. Grease 2 x 20 cm (8-inch) loaf tins and line them with the dough, reserving enough to cover the top.
2. Preaheat the oven to 110°C (225°F/ Gas 1/4).
3. Make the filling. Mix all the dry ingredients together, then mix in the brandy, egg, and enough milk to moisten the mixture. Put it into the prepared loaf tins and cover with the remaining pastry. Use the remaining milk or an egg wash (1 egg beaten with a splash of milk) to seal the top crust. Prick all over with a fork and brush with egg wash. Bake in the oven for about 3 hours. When it is cool store in an airtight tin.
from The Scottish Kitchen, © 2004, by Christopher Trotter, Aurum Press
---
Hogmanay Video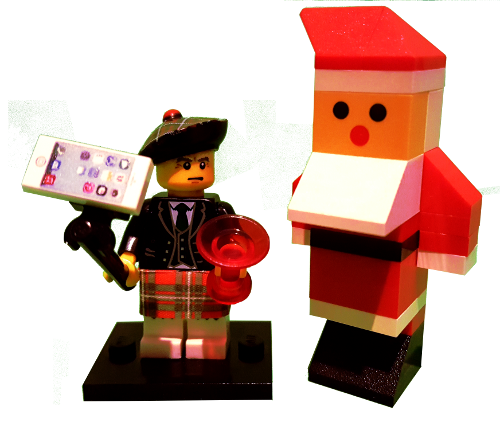 Scotty MacHaggis takes a selfie with Santa
Hogmanay New Year's celebrations from 2014.
I suspect that this year will be similar.
---
Tweets

collected by cecilia