GODFREY EVANS IS GUEST SPEAKER AS THE NEW YORK BRANCH OF THE SALTIRE SOCIETY HOLDS FIRST MEETING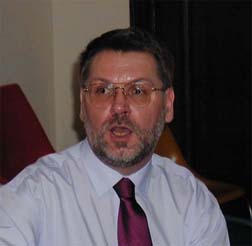 A number of hardy Scots (and others) braved the six inch snow fall on Dec. 6th to hear Godfrey Evans of the National Museums of Scotland lecture on "Alexander, 10th Duke of Hamilton (1767-1852): A Study in Pride, Opportunism, and Political Passion". Armed with a battery of slides, and with two slide projectors (supplied by Bruce MacIntyre and John Beatty), the lecture was a spectacular visual feast. The enormous collection of material that had belonged to the 10th Duke of Hamilton was truly amazing. Evans spoke of the accumulation and ultimate disposition of the materials. We hope to have a summary of his talk for our next issue.
Refreshments after the lecture were supplied by Connecticut Muffin in Brooklyn. Thanks, guys!
The New York Branch of the Saltire Society is planning a number of events for the coming months. Please check out their web site.
---
WHO IS WHO
INTERVIEW WITH DONNIE MUNRO
SCOTIA NEWS: Hi Mr. Munro. It is good to meet you here on Skye at Sabhal Mor Ostaig. Were you born here on the island?
MUNRO: I was born in the small village of Uig in the North end of the Isle of Skye, like all those born on the island before 1966, when a new maternity unit was built at Portree the main town on the island. I spent most of my childhood, between the village life in Portree, which was predominantly English speaking and a small family croft (small-holding) in the crofting township of Treaslane on the shores of Loch Snizort, which was a Gaelic speaking community. In many ways I was extremely fortunate to belong to a generation which was probably the last to experience a very traditional lifestyle, language and culture, and one which was to change rapidly within a short time span, due, to a large extent, to the encroachment of tourism and the relentless onslaught of an English dominated media coupled to an education system which at best was guilty of criminal indifference or at worst outright and systematic institutional hostility. I consider my self very fortunate to have had access to this distinct cultural and linguistic background.
SN: You have been involved in both art and music Can you tell us something about your career as an artist in these areas?
Click on the Play Arrow to hear the beginning of Donnie Munro's "Weaver of Grass" "Weaver of Grass" to download mp3 and listen offline.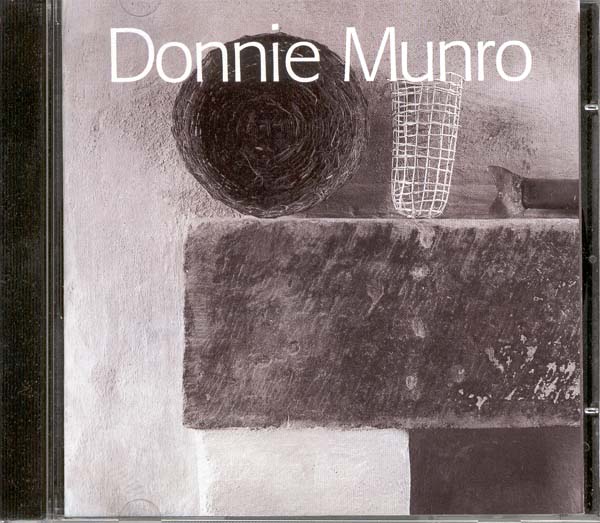 MUNRO: At a very early age I became fascinated by the visual arts and became determined to study fine art. I was admitted to Grays College of Art (Robert Gordon's University) aged sixteen and moving to Aberdeen to take up full time study specialising in drawing and painting. I graduated aged twenty and continued my postgraduate study in education at the Moray House College of Education, Edinburgh.Following on from that I taught Art in various schools before becoming a full time professional musician with the Scottish Rock Band Runrig.
SN: I gather you had a "hit song" that made the top 20 in Scotland that was in Gaelic. Was this a surprise to you?
MUNRO : We worked very hard in the early years operating in spite of the mainstream music industry rather than because of it and it took quite a number of years to have our Celtic inspired rock music find a place within the London dominated music industry. We went on to enjoy considerable international success. Despite charting many albums in the UK Top Twenty it was charting a Gaelic song, An Ubhal as Airde in the UK Singles Chart, which perhaps brought the greatest degree of satisfaction, as it was the first Scottish Gaelic song to have achieved this. In some ways this would have seemed a highly unlikely event at the outset but by this point were playing to very large audiences throughout the UK and mainland Europe including a show to 50,000 people on the banks of Loch Lomond on midsummer's night 1991.
SN. You have been involved here at the college for some time Can you tell us how you got involved here, what kinds of things are you doing and where you see things going over the next few years?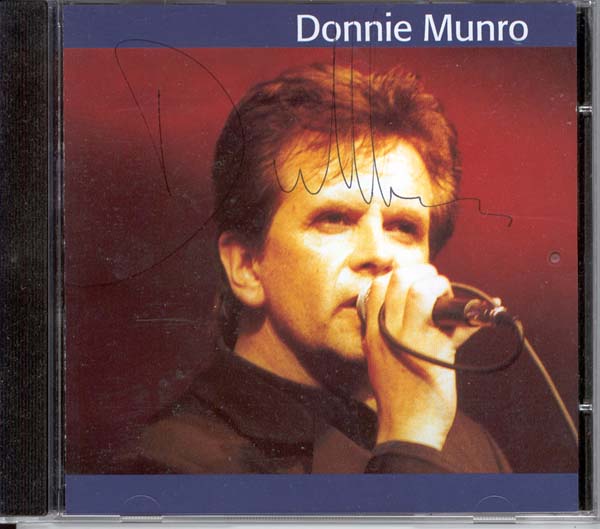 MUNRO: Although aware of Sabhal Mor Ostaigs existence from its inception it was in 1994, following on from my Rectorship at the University of Edinburgh, that I was invited to join the Board of Trustees of a major project in which the College was involved, 'Bail Ur Ostaig', a visionary project to create a new highland village with education and the Gaelic language and culture at the it's heart. Despite this finding the necessary support from the major public funding bodies at that time the College has gone on to incrementally build a critical mass of related activities, which to large extent have had the type of impact, which it was envisaged from the outset. I joined the management team as Director of Development shortly after leaving Runrig in 1997.I have been involved predominantly in project development, funding and working through the political process to gain the necessary support for the ongoing work of the college. Most notably I have been involved in the recent development of a new College centre on the island of Islay.
SN. It has certainly been an interesting life that you've had. Thanks very much for taking the time to talk with us.
---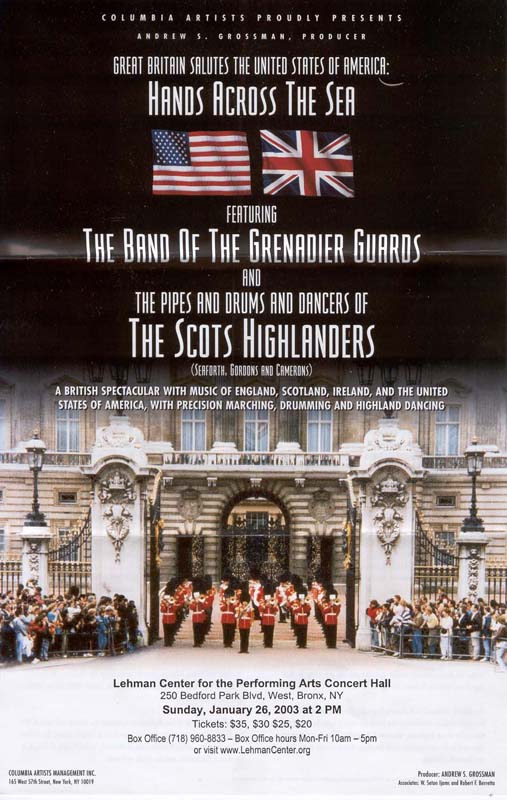 HANDS ACROSS THE SEA




Sunday, January 26, 2003 at 2 p.m. there will be a performance of The Band of the Grenedier Guards and the Pipes Drums and Dancers of the Scots Highlanders.

The First or Grenadier Regiment of the Foot Guards was raised in 1656 in Flanders. Currently the band consists of 49 talented musicians. Based at Wellington Barracks close to Buckingham Palace, the regiment has a history of action in many places in the world.

The Scots Highlanders, a result of the merger of the Seaforth, Gordons and Camerons in 1994, can trace its ancestry back to 1778 when regiments were raised in the Highlands. The three tartans associated with the regiments - (Mackenzie of Seaforth, Gordon and Cameron of Erracht) are still used with the officers, rank and file wearing the Gordon kilts, while the Pipes and Drums wear Cameron of Erract. All ranks wear trews of the Mackenzie tartan. All of the personnel are trained as fighting soldiers (infantry and a machine gun platoon). They have toured world wide and have a well deserved reputation for excellence.

The performance will be held at the Lehman Center for the Performing Arts Concert Hall at 250 Bedford Park Blvd. West in the Bronx. Tickets are $35., 30, 25,and $20. For further information please contact the box office at (718) 960-8833 Monday - Friday from 10am to 5 pm or visit Lehman Center

There will be additional performances in the NE as follows:
Jan. 24, Tilles Center, C.W. Post Brookville, NY
Jan. 25, The State Theater, New Brunswick, NJ
Jan. 28th Sovereign Bank Arena, Trenton, NJ
Jan. 29th University of Connecticut, Storrs, Conn.
Feb. 1, Shubert Theater, New Haven, Conn.
Feb.2, Fleet Center, Boston, Mass.
Please contact the respective locations for further information.