BOOK REVIEW
Whisky Wars, Riots and Murder Crime in the 19th Century Highlands
By Malcolm Archibald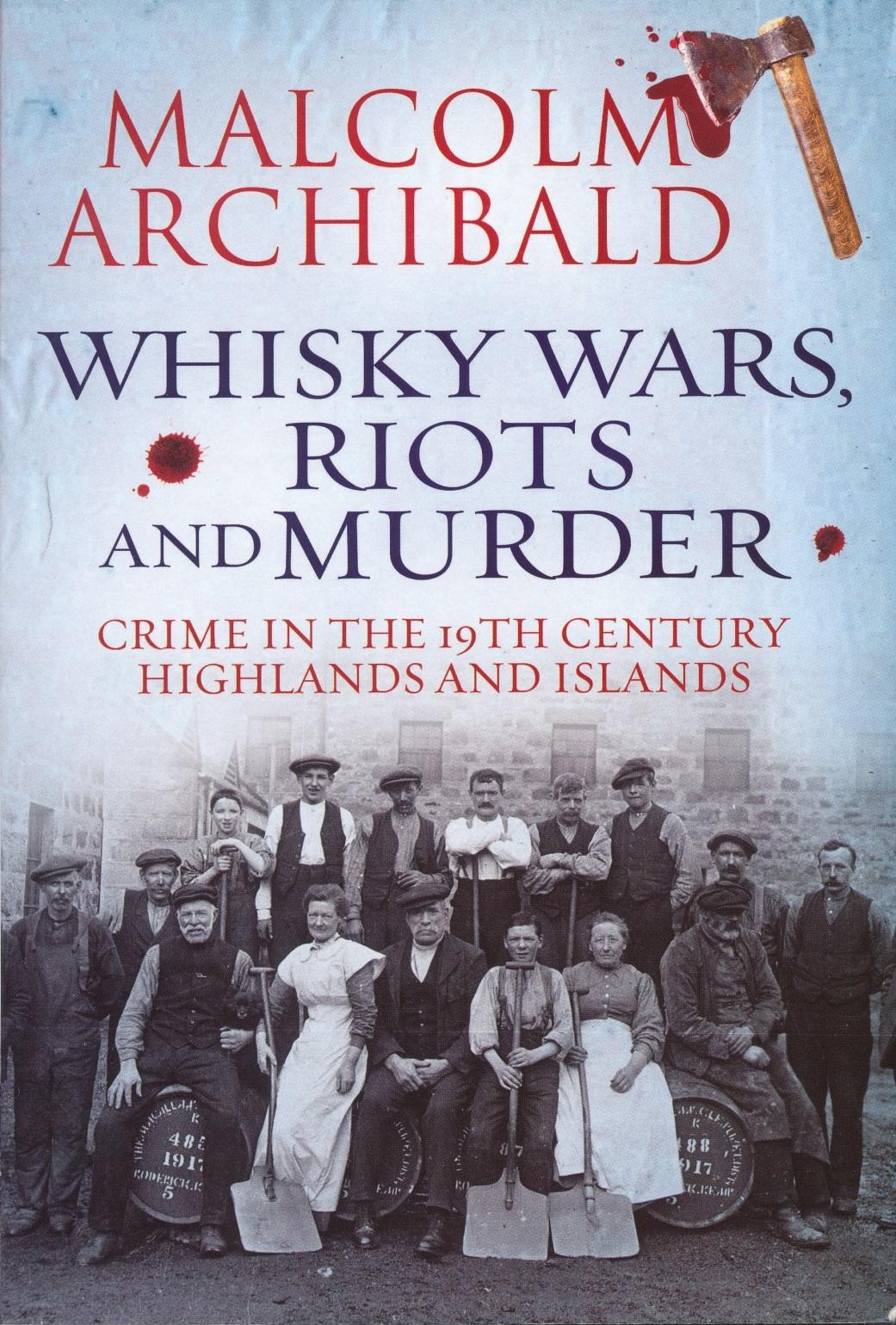 Whisky, Wars, Riots and Murder (2013) is not a scholarly treatise on crime in the 19th Century Highland. It is, rather, a book which considers a number of cases, broken down by categories and gives some clue as to the kinds of "activities" that were going on in the highlands of Scotland in the 19th Century. There is some background information given about certain crimes, like the "whisky wars" and the interactions between the Excisemen and the Highlanders whose illegal production and sale of whisky were complex and strained. They are not unlike some of the problems in the US in the Appalachians where "revenuers" played a similar role.
The book contains 17 chapters. The first gives some background and is called "The Geographical and Historical Background". The fifth deals with the "The Highland Police", and the early policing is discussed along with some specific officers. There is a short section on "crime and punishment" and another on "prisons". The remainder of the book is broken down by crimes into 15 chapters such as "Theft and Robbery", "Savage Assaults". A Maelstrom of Murder", "Crime and Religion", "Women and Crime", "Children and Crime" and "Poaching". Each chapter generally details a few crimes in those particular criminal activities.
The book is easy to read and enjoyable, and if you are a "crime buff" this book should give you enough criminal activity to keep you happy for a good while.
Archibald is a writer who has delved into the area of crime before this and has written a number of books on the subject. He is the author of Powerstone, Whales for the Wizard, The Darkest Walk, A Sink of Atrocity and Glasgow: The Real Mean City.
Whisky Wars, Riots and Murder Crime in the 19th Century Highlands was published in 2013 by Black and White Publishers in Edinburgh and has 279 pages. The book has a short selected bibliography and lists a few relevant web sites.
---
Scottish Gaelic Proverbs - Pamphlet
The pamphlet "Scottish Gaelic Proverbs" was written by John Lorne Campbell © 1968 and illustrations by Angus MacPhee. Second reprint 1975. It was printed by John G, Eccles - Longman, Inverness and was published by An Comunn Gàidhealach with whose kind permission we publish it here.
Immerse yourself in the vivid and exciting experience of poetry.
These pamphlets have been scanned and therefore are large image files.
Click each link to read one page at a time
---
Tweets
collected by cecilia