OFF THE BEATEN PATH
IONA
Iona is a small island in the Inner Hebrides on the west coast of Scotland, just off the island of Mull. Not easily accessible, the route generally goes through Oban. From there a trip across to Mull, and then across Mull, gets one to the ferry to Iona. The island is known for its great beauty and tranquility and for the important monastery, Iona Abbey. It is to this island that Columba came with 12 companions from Ireland in the year 563. Its importance in the spread of early Christianity among the Picts and Scots is undeniable. Scottish kings were both crowned and buried in Iona, although there is some question about just where which king is buried. Some say that to prevent souvenir hunters from removing pieces of tombstones, that the names of the specific kings were removed. One argument that has been made for Macbeth being a well regarded king is that he is buried on Iona, but documentation on the island itself seems missing.
Both the famous illuminated The Book of Kells may have been produced by monks living on Iona before 800. The Chronicle of Ireland was also produced here until about 740.
The Island was attacked by the Vikings in 806 and 68 monks were killed during the attack in what has become known as Martyr's Bay. Another Viking attack came in 825 and the monks there were also martyred and the abbey burned, but apparently not deserted for a retired King of Dublin, Amlaíb Cuarán, died there in 980.
Today, there is an active Christian group called the Iona Community. Founded in the late 1930's they actively promote new ways of celebrating Christ and Christian values in a way similar to the old Celtic Church, and they welcome visitors to rest, contemplate and participate within their ecumenical traditions.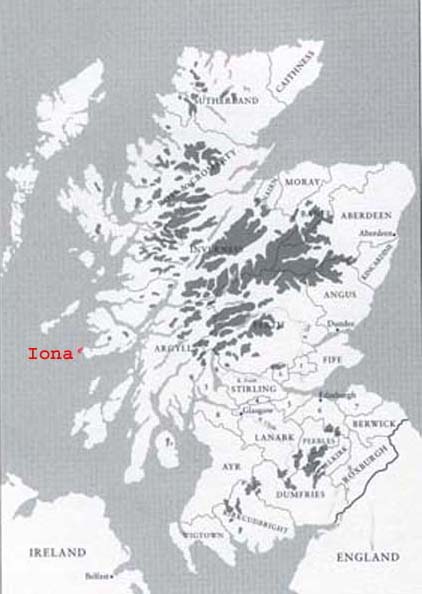 Map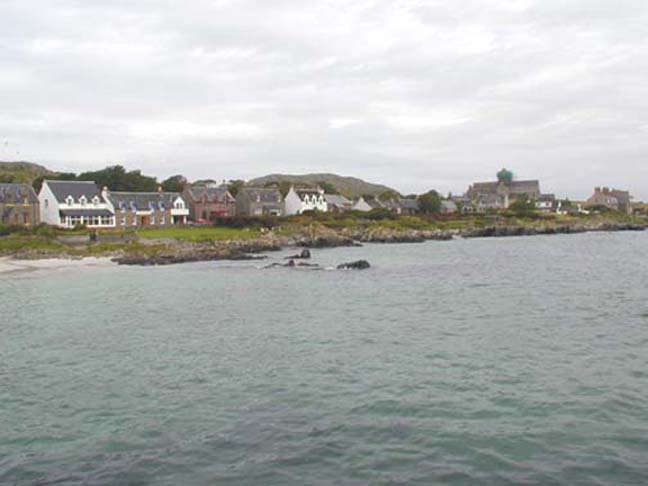 ARRIVING AT IONA FROM MULL BY FERRY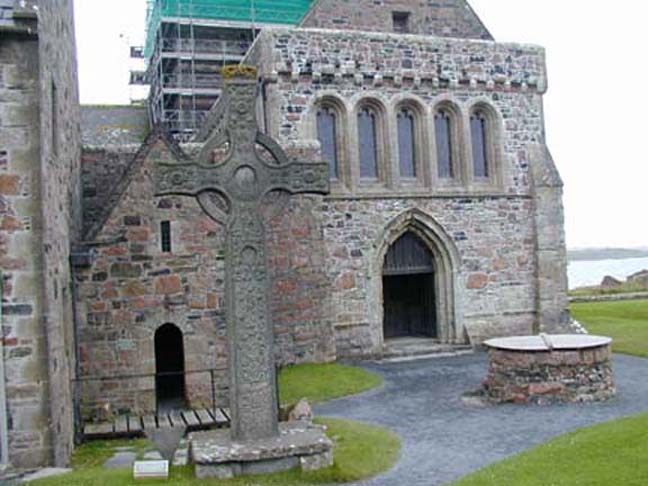 OUTSIDE THE CHAPEL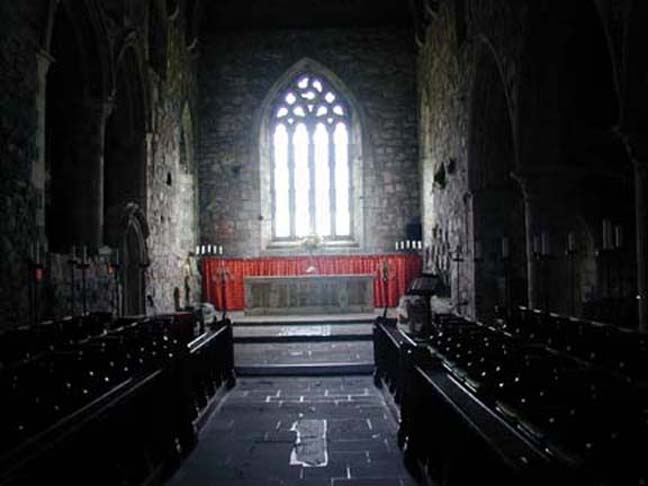 INSIDE THE CHAPEL
A good way to get to see Iona is by taking a tour that goes past the island of Staffa, most famous for Fingal's Cave a huge open cave which produces "musical sounds" and is the inspiration for Mendelsohn's famous Cave Overture.