OFF THE BEATEN PATH
by John Beatty and Tom Doran
POE A SCOT???? POE VERSUS (?) DOYLE: Some weird correspondences.
The Poe House at Kingsbridge Road and the Grand Concourse The Bronx
Stevenson's Federer versus Murray takes it title from a Swiss and Scottish tennis player. So in the spirit of comparison, this issue will look at two writers: Edgar Allan Poe and Arthur Conan Doyle. An additional motivation to doing this is the opening of The Raven, a new film about Poe.
It is clear that Edgar Allan Poe and Arthur Conan Doyle never met, given the fact that Doyle was born May 22, 1859, 10 years after Poe died on Oct 7 1849). Most people are aware that Sir Arthur Conan Doyle (22 May 1859 – 7 July 1930) was born in Scotland and is the author of the Famous Sherlock Holmes stories. Edgar Allan Poe (January 19, 1809 – October 7, 1849) is generally credited as being the originator of the detective story. His detective, C. Auguste Dupin, appears in three of his stories – The Murder in the Rue Morgue (1841), The Mystery of Marie Rogêt (1842) and The Purloined Letter (1844). Both Dupin and Holmes are not police, but private people who become involved in solving crimes. Holmes perhaps comes closer to being what we would think of today as a private detective. Both detectives use intellect to solve the crimes. Dupin, in fact predates the use of the word detective.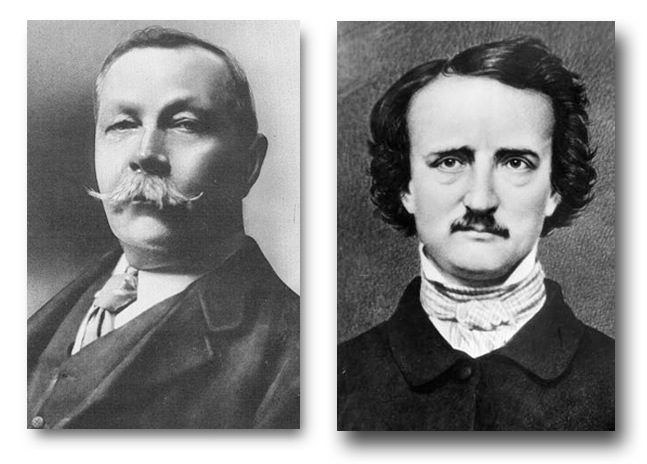 Arthur Conan Doyle and Edgar Allan Poe
Both, Doyle and Poe had an interest in science and wrote science fiction works – Poe's Eureka and in The Balloon Hoax he is said to have reinvented science fiction and influenced Jules Verne. Verne's An Antarctic Mystery is a sequel to Poe's The Narrative of Arthur Gordon Pym of Nantucket. Doyle's Lost World is also a foray into the area of science fiction. Both wrote stories that had to do with cryptography and cryptanalysis – Poe's The Gold Bug – a treatise on substitution codes and Doyle's short story The Adventure of the Dancing Men with Sherlock Holmes.
While Doyle is clearly born is Scotland, his ancestry is Irish. Poe's grandfather came from Ireland as well although the name is not listed as an Irish name, nor is it listed in Black's Surnames of Scotland. It can be found however in a book of names from England and Wales.
Doyle's middle name, Conan, is thought to have been the family name of his godfather Michael Conan. "Arthur Ignatius Conan" are the names given as Christian names and Doyle alone as the family name. Somehow Conan Doyle seems to have become a compound family name.
Poe is Edgar Poe and Allan is introduced later. Poe was orphaned when young and was taken in (but never officially adopted) by James and Frances Allan. Allan was a merchant who had immigrated to the United States from Scotland and in 1815 while Edgar was still a lad of 6, the Allans returned to Britain and Poe attended school for a number of years in London. Before going to England, the Allan party went to Irvine (near Kilmarnock) in Scotland where they visited James Allan's family. Poe seems to have spent a short time in school in Kirkgate, Irvine, Scotland. Later Poe would spend close to 5 years in school in London.
Anyone interested in Poe's Scottish connections can find a number of sites dealing with it:
Some photos inside the Poe House in the Bronx