OFF THE BEATEN TRACK

James Barrie's Birthplace and Grave
James Barrie was born in Kerriemuir, Scotland on May 9th, 1860.

His father was a weaver and his loom took up most of the downstairs of the small house in which they lived. James had none brothers and sisters, some of whom had dies before he was born. I t was the death of his older brother, David at age 13 (when Barrie was about 7) that had the greatest impact on James' life.

Margaret Olgivy, James mother, had been passionately devoted to David and his death had an enormous impact on her. She took to bed and never fully recovered from the disaster. James used to come and sit with her and she would tell him stories about her childhood - stories which he would latter write about in a fictionalized town called "Thrums" - a word used for loose strands on a loom). Barrie's writings appeared in the newspapers and he gained popularity as a result of these stories. Ultimately he moved to London where he became involved with the Davies family, whose children, George (oldest) killed in the war, 1915

John (Jack); Peter who committed suicide in 1960 at the Sloane Square station; Michael who drowned in boating accident with a friend in 1921 and Nicholas. The children play heavily in Barrie's writing of his most famous work Peter Pan.

Barrie's involvement with the Davies family, especially the sons, has been the subject of much discussion. There are those who feel that it smacked pf pedophilia, and others (including the boys themselves) who felt that there was never anything like that involved in the relationship.

James was quite small, about 5 feet, and it is reported that he didn't need to shave until he was in his 20's. Some have argued that there was some hormone deficiency and point to his apparently unromantic involvement with his wife as further evidence. In effect, James related to the Davies boys almost as an equal.

There are many works, indicated in the "Important Dates in Barrie's Life" (below) that Barrie published which are famous, although none reached the level of Peter Pan

Kerriemuir is worth a visit. The house in which Barrie was born and grew up is open to visitors.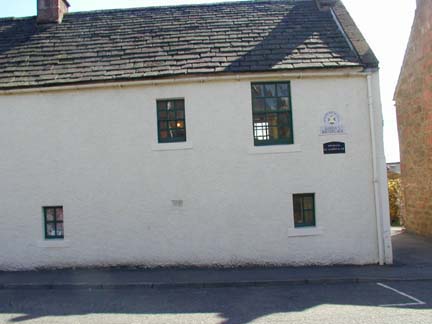 A short walk up the hill brings you to the cemetery where Barrie is buried with some of his family members.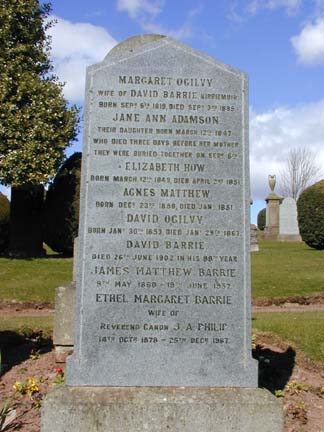 Around the town, there are many references to Peter Pan as evidenced by this hotel!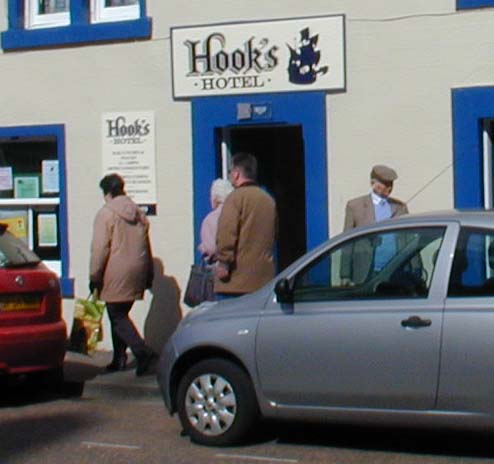 Barrie lived much of his life in London and spent time with the Davies boys on Kennsington Gardens where one can now see a statute of Peter Pan.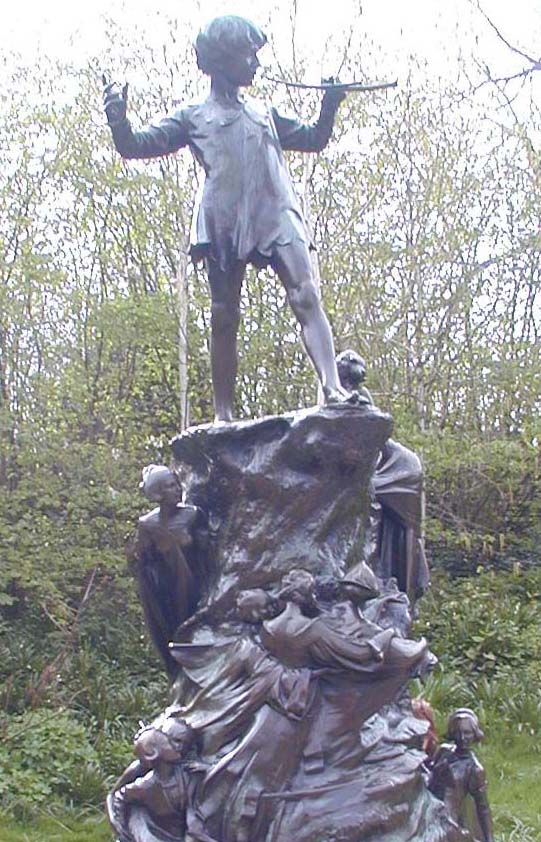 A recent film Finding Neverland is a quasi biography of James Barrie. There are several biographies out as well:

See a slide show of the See the Barrie House and Kerriemuir.

BIOGRAPHIES OF BARRIE:

Books
Asquith, Cynthia, 1955 Portrait of Barrie Dutton Publishers, NY
Birkin, Andrew, 1979 J.M. Barrie and the Lost Boys: The Love Story that Gave Birth to Peter Pan Clarkson N. Potter Inc., NY
Geduld, Harry M., 1971 James Barrie Twayne Publishers, NY
MacKail, Denis, 1941 The Story of J.M.B. Peter Davies, London
Walbrook, H.M, 1922 J.M. Barrie and the Theatre Kennikat Press, Inc. Port Washington, NY

There is a web site for a mini-course taught at Brooklyn College that dealt with the various films incarnations of Peter Pan.

IMPORTANT DATES IN BARRIE'S LIFE

1860 9 May: James Barrie born at Kirriemuir, Scotland

1867: Death of brother David at age 13 in a skating accident.

1873-1878: Attended Dmfries Academy

1878: Studies at University of Edinburgh

1882: Receives M.A, from the University of Edinburgh

1885: Moves to London

1887: Publishes first book Better Dead

1888: Publication of Auld Licht Idylls and When a Man is Single

1889: Publication of A Window in Thrums

1891 16 April: First performance of Richard Savage
1891: Publication of The Little Minister

1892 25 Feb: First performance of play, Walker, London

1892 9 May: Accidental death of Barrie's friend Rev. James Winter who was to marry Barrie's sister Maggie. Later she marries James' brother William.

1894 25 June: First performance of The Professor's Love Story
1894 9 July: Barrie marries actress Mary Ansell.

1895 1 Sept.: Death of Barrie's sister Jane Ann 1895 3 Sept.: Death of Barrie's mother 1896: Publication of Sentimental Tommy and Margaret Ogilvy

1897 6 Nov. First performance of Little Minister (320 performances)

1898 March: Receives honorary LL.D. degree from St. Andrew's University, Scotland

1900 27 Sept.: First performance of The Wedding Guest (100 Performances)
1900: Publication of Tommy and Grizel, a sequel to Sentimental Tommy

1902 17 Sept.: First performance of Quality Street (459 performances)
1902 4 Nov.: First performance of The Admirable Crichton (328 Performances)
1902: Publication of The Little White Bird

1903: First performance of Little Mary (208 performances)

1904 27 Dec.: First performance of Peter Pan or The Boy Who Would Not Grow Up - London (145 Performances)

1905 5 Apr.: First performance of Alice Sit by the Fire (115 performances)

1906: Publication of Peter Pan in Kensington Garden

1908 3 Sept.: First performance of What Every Woman Knows (384 performance)

1909 2 April: Barrie receives honorary LL.D from the University of Edinburgh

1911 May: Appearance of Peter Pan statue in Kennsington Gardens

1913: Barrie made a baronet by George V

1916 18 March: First performance of A Kiss for Cinderella (156 performances)

1917 17 October: First performance of Dear Brutus (365 performances)

1918: Publication of four one-act plays called Echoes of War

1919 1 Nov.: become Rector of St. Andrew's.
1919: Publication of Barrie's "Preface" to The Young Sisters by 9 year old Daisy Ashford.

1920 22 April: First performance of Mary Rose (399 performances)

1921 27 May: First performance of Shall We Join the Ladies for festival. Actual run in 1923 ran 407 performances.

1922: Barrie receives the Order of Merit

1926 23 June: Receives honorary LL.D. from Oxford

1930 23 June: Receives honorary LL.D. from Cambridge
1930 25 Oct.: Barrie becomes chancellor of the University of Edinburgh

1936 21 Nov.: First performance of The Boy David

1937 19 June: Barrie dies. Buried in Kerriemuir cemetery with brother and mother

1960 5 April: Peter Llewellyn Davies commits suicide by throwing himself in front of a subway train.




---
QUIZZES

THIS ISSUES CRYPTOGRAM

GF ZIQFALUOCOFU YGK Q FQZOGFQl COEZGKN
NT INHGEKOZTL! QKT ZITLT NGXK HKQFAL?
ZG DXKRTK DTF, QFR UOCT UGR ZIQFAL?
RTLOLZ YGK LIQDT!
HKGETTR FG YXKZITK:
UGR VGFZ QEETHZ NGXK ZIQFAL YGK DXKZITK.

KGWTKZ WXKFL


SOLUTION TO THE CRYPTOGRAM IN THE LAST ISSUE

I ONLY ONCE STAYED DURING THE WHOLE OF MY HOLIDAY AT THE HOUSE ON THE BRAE, BUT I KNEW ITS INMATES FOR MANY YEARS, INCLUDING JAMIE, THE SON, WHO WAS A BARBER IN LONDON. OF THEIR ANCESTRY I NEVER HEARD. WITH US IT WAS ONLY SOME OF THE ARTICLES OF FURNITURE, OR PERHAPS A SNUFF-MULL THAT HAD A GENEALOGICAL TREE.

JAMES M. BARRIE A WINDOW IN THRUMS, THE HOUSE ON THE BRAE

THIS MONTHS QUIZ:

In several Hollywood movies, a character who is Scottish or of Scottish ancestry appears and yet that fact is of no importance to the film. Can you identify the films in which the following character appears from the name and the quote below?
John Scotty Furgerson I remember you as a hard headed Scot
Scotty / Come and get some nice Scottish blood to drink.
Scotty McCoy Beam me up Scotty
SOLUTION TO LAST ISSUE'S QUIZ
False: Lake Monteith (sometimes spelled Menteith) This loch in Perthshire is the only one referred to regularly as a lake, not a loch.