ST. ANN'S WAREHOUSE PRESENTS
U.S. PREMIERE OF
THE NATIONAL THEATRE OF SCOTLANDS
BLACK WATCH
Originally presented in a drill hall, Black Watch follows the disassembling of Scotlands most esteemed regiment over the course of its final tour in Iraq, written from the personal testimonies of ten men on the ground. Black Watch reveals what it means to be part of the legendary Scottish regiment, what it means to be part of the War on Terror and what it means to make the journey home again. Lyrical and loaded with testosterone, John Tiffany's production makes powerful and inventive use of movement, music and song to create a visceral, complex and urgent piece of theatre.
The centerpiece of The National theatre of Scotlands inaugural season, Black Watch was a sold-out hit at the Edinburgh Festival last summer, garnering unanimous critical praise. The Herald wrote, Black Watch is an astonishing artistic whirlwind. The world must see this play. Immediately. The Guardian called it a mature and complex piece of political theatre fierce, passionate and unguarded. The Times agreed, Few will come away untouched by this thrilling, raw, challenging and masterful piece of work.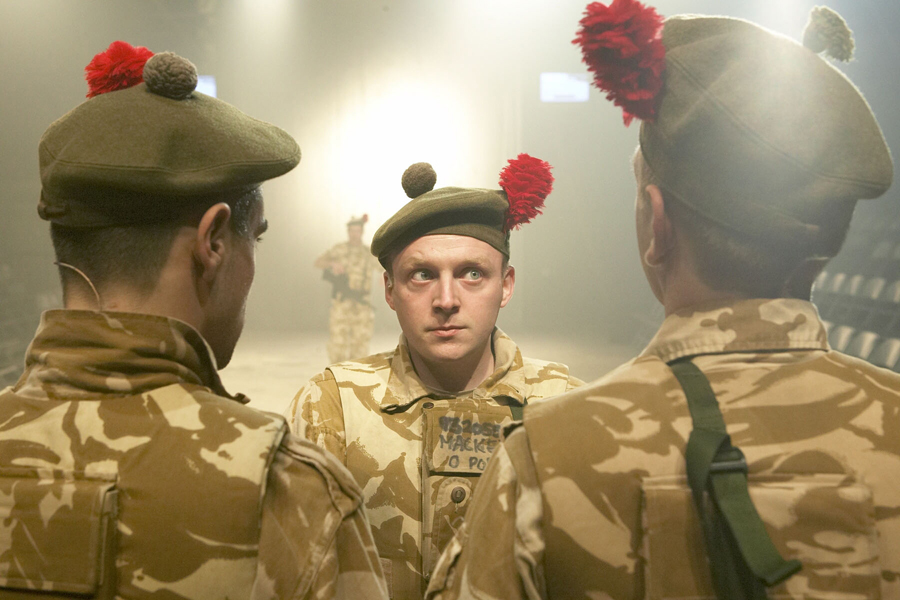 In addition to five-star reviews in every major Scottish/British news outlet, Black Watch has won four of Scotlands Critics Awards, including Best Production, Ensemble, Technical and Direction, Scotlands top honors.
Black Watch is notable not just for the overwhelmingly positive critical and popular reception it has garnered, but for the unprecedented way it has reached the realm of politics. Scotlands First Minister, Alex Salmond, invited the National theatre of Scotland to stage the play to mark the official re-opening of the Scottish parliament on June 30, with a performance hosted by him and the Presiding Officer at The Pleasance, Edinburgh University's sports hall. Among the many VIPs in attendance was Sir Sean Connery, one of the shows most ardent supporters. The engagement at St. Ann's Warehouse is supported in part by the Royal Bank of Scotland and the Peter Jay Sharp Foundation.
This season St. Ann's Warehouse begins its new Voices On series, in which artists, writers and activists will share their perspectives on issues and topics related to the work on stage. On Wednesday, October 24, following the 8:00 performance of Black Watch, St. Ann's Warehouse will present a Meet the Director post-show talkback with John Tiffany in which he will talk about the journey to create Black Watch from the stories of real men who were on the ground while Tony Blair was dismantling Scotlands most esteemed regiment. Following the Thursday, October 25 performance, St. Ann's Warehouse presents a panel discussion called On the Ground, in which artists and journalists will talk about the challenges of writing and making work about war without diminishing or glorifying it.